Worcester, Mass. — Severe flooding swept away cars, uprooted trees and forced evacuations as the Northeast endured another day of driving rain Saturday. But in some places, there was good news - the sun was shining.
Forecasters expected strong winds overnight but said the worst of the heavy rain appeared to be over. Parts of the Northeast have endured more than a foot of rain since Oct. 7.
"We need the sun and the breeze to dry it up a bit, to start raising the spirits of the residents," said Harry Conover, director of emergency management in New Jersey's Monmouth County. "These people have been going through this all week, and they haven't seen the sun in a long time."
Flooding kept roads and highways shut down Saturday, halted train service and prompted Massachusetts Gov. Mitt Romney to declare a state of emergency, following the lead of New Jersey and New Hampshire. The death toll rose to 11 when a 75-year-old Connecticut man was swept away by rushing water at a campground. Four people in New Hampshire also have been missing for a week.
In Massachusetts alone, the flooding was estimated to have caused more than $6.5 million in damage, Romney said.
Though the worst rain was over, the region was not out of danger. Flood warnings were in effect in Massachusetts, New Jersey, Rhode Island, Connecticut and New Hampshire as rivers swelled and officials worried that dams might burst.
"We probably got three months of rain in this past week," said Kerry Flaherty, director of emergency management in Connecticut.
Amtrak canceled service in parts of the Northeast Corridor because of high water on the tracks, and flooded highways snarled traffic from Connecticut to New Hampshire. Hundreds of residents were evacuated as rivers overflowed their banks and covered roadways.
Flooding in central Massachusetts swept away about 30 cars in an industrial area of Worcester and forced a police officer to climb out his cruiser's window to escape the rising water. Two or three boxcars in a city rail yard also were lifted up by the flooding and pushed into the street, police said. Floodwaters were reported as high as 7 feet in some areas.
Worcester resident Eric Plikunas, 22, and his family sought refuge at Doherty Memorial High School after the roof caved in on his apartment.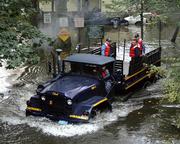 "I thought I was dreaming. I woke up and my girlfriend was lying in a puddle of water," he said.
On Interstate 91 just south of Springfield, traffic backed up for miles after deep water forced officials to close the highway in both directions. The southbound lane reopened within hours and the northbound lanes were expected to open late Saturday.
Peter Judge, a spokesman for the Massachusetts EMA, said the agency was prepared to evacuate 6,000 people from Southbridge should dams near the town burst. Southbridge is in central Massachusetts, just north of the Connecticut border.
In New Hampshire, many of the 1,300 residents evacuated last weekend from Keene returned home Saturday, but a 500-foot mudslide shut down part of Route 123.
"There's water in the road, water in the basement, literally all over the state," said Jim Van Dongen, spokesman for the New Hampshire Emergency Management Office.
Copyright 2018 The Associated Press. All rights reserved. This material may not be published, broadcast, rewritten or redistributed. We strive to uphold our values for every story published.