Warsaw, Mo. — Sheep and llama wool, alpaca, goat and dog hair and even rabbit fur from across the country comes to Gail White's doorstep.
Gail and her husband, Jim, have operated Ozark Carding Mill from a shop behind their home in rural Warsaw for a decade.
Gail, 63, takes bags of wool and other animal hair shipped in from cottage industry producers throughout the U.S., cleans it, picks it, cards it and turns it into rovings, long stretches of clean wool ready to be spun into yarn or woven.
The operation isn't a grandma's spinning wheel and hand-held carding tools.
It consists of a laundry room with seven modified clothes washers, a drying room and four large pieces of heavy machinery used in an assembly line that runs almost all year.
In 10 years, the couple have expanded their shop three times to meet demand.
"It all started when my daughter had an Angora bunny in 4-H," Gail said. "It had lots of babies. When I was growing up a set of jacket and skirt made of Angora was the rage. Remembering that, I couldn't throw it away. I'd been keeping bags and bags of the stuff."
Gail found few places willing to process small amounts of Angora fur. She started doing it herself and her interest grew. She got her own herd of about 30 sheep. Now she fills a niche, catering to producers with small herds, flocks of three to 40 sheep.
Unwashed, unprocessed wool sells for about 20 cents a pound. Gail sells her roving for $2 an ounce and up. She charges about $8 a pound to turn customers' wool or other more exotic hair into roving.
The process begins in the washing machines, where the wool is soaked and spun with biodegradable soap. It is then air dried before being put through a picker, which cleans out plants and chunks of dirt. Some wool comes in better quality depending on health of the animals.
"Heat stress, nutritional problems, parasite infestation such as worms, anything that takes nutrition away from the flock affects the quality," said Gail, who puts blankets on her own small flock of sheep to keep debris out.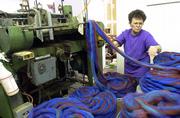 "Washing it is pretty icky when you think they have everything from the barnyard in their wool," she said.
Wool then goes through a carding machine, where a series of rollers with metal prongs pull strands apart and lines them up into a cord of cleaned wool.
The string is combined with other strings, sometimes a mix of colorful dyed wool in the pin drafter, a machine with a series of bars with fine comb-like teeth that strings together straightened strands of wool or other fiber into a strip ready to be woven or spun.
"You kind of have to have a feel for color, and everybody's color wheel in their head is different," Gail said. "I work probably 10 to 12 hours a day out here."
Invariably, there will be something that has to be done. The roving goes back to customers or to Sharon Meador, of Lebanon, who owns Full Bobbin and has equipment to turn the roving into yarn.
A skein, several yards of finished yarn from Full Bobbin, can sell for $8 to $16.
Jim, an engineer at the metal finishing plant BurrKing in Warsaw is the mechanic and adapts and fine-tunes the machinery.
He also does some late-night wool washing, Gail said.
His current project is adapting a cotton spinning machine to spin fine wool thread.
While hours are spent at the shop, the couple also tour the country selling roving at trade shows and picking up wool and other animal hair to treat, card and rove for customers.
"It's become an addiction," Gail said. "It's a habit."
Copyright 2018 The Lawrence Journal-World. All rights reserved. This material may not be published, broadcast, rewritten or redistributed. We strive to uphold our values for every story published.