Orlando, Fla. — Dave Surgan dropped into a crouch, then leaped into the air and let out an eardrum-rupturing yelp.
His imitation of a crazed monkey during a recent audition at Universal Studios Orlando helped him land a job frightening some of the hundreds of thousands of visitors who will come to be scared, be very scared, at the theme park resort's multimillion-dollar Halloween celebration this October.
"Once, they had to call the paramedics because a girl started hyperventilating," said Surgan, 22, who in the past five years has worked as a crazed chainsaw operator and a mutated dinosaur at the park's monthlong Halloween Horror Nights, now in its 15th year.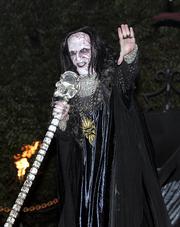 Not so long ago, Halloween was merely a one-day holiday, observed primarily by kids dressed in fake blood, plastic teeth, ballerina tutus or superhero costumes, who traipsed from door-to-neighborhood door dragging pillowcases full of candy.
Not anymore. Over the past five years or so, the nation's $11 billion amusement park industry has appropriated the holiday as its own, helping transform Halloween into a monthlong celebration.
"If there are still theme parks out there that aren't celebrating it, they need to get their heads examined," said James Zoltak, editor of Amusement Business, a trade publication. "It's a moneymaker, almost universally."
Although the International Association of Amusement Parks and Attractions keeps no figures, industry experts estimate that millions of people go to Halloween celebrations at parks around the nation, generating tens of millions of dollars in extra revenue for them.
Monstrous growth
For Terri Lacroix, the appeal of the Halloween celebrations comes from the adrenaline rush she gets anticipating where the next grotesquely masked figure is going to jump out at her in the confined space of a haunted house.
"I don't like roller coaster rides but I love scary movies. This is my adrenaline rush," said Lacroix, 35, an Orlando catering manager, as she exited "The Skool" haunted house at Universal's Halloween Horror Nights.
If you dare to go
Worlds of Fun: Kansas City, Mo., www.worldsoffun.com. The park offers five Extreme Haunts, spooky shows of illusion and scare-free family fun on Friday nights and weekends through Oct. 30. The five Extreme Haunts are the Lore of the Vampire, the Carnival of Carnivorous Clowns, the foggy Fright Zone, Camp Gonnagitcha Witchahatchet, and the Dominion of the Doom, a gothic cemetery inhabited by ghosts, illusions, apparitions and the living dead. After dark, the brand-new show Slash unleashes illusions of blood and gore. For scare-free fun, kids can hang with Snoopy and the Peanuts gang in the new Children's Costume Contest in Camp Spooky. Worlds of Fun is open from 6 p.m. to midnight Fridays, 11 a.m. to midnight Saturdays, and 10 a.m. to 7 p.m. Sundays
Busch Gardens Williamsburg: Williamsburg, Va.; www.buschgardens.com/buschgardens/va/ or(800) 343-7946. Halloween events Friday to Sunday through Oct. 30.
Knott's Berry Farm: Buena Park, Calif.; www.knotts.com or (714) 220-5000. Halloween events through Oct. 31.
Universal Orlando: Orlando, Fla.; themeparks.universalstudios.com/orlando/hhn/ or (407) 363-8000. Halloween Horror Nights, Thursday to Sunday through October, plus Oct. 31.
Nationwide, Halloween has grown by leaps and bounds as a holiday, and this year consumers were expected to generate $3.3 billion in Halloween spending, according to the National Retail Federation. Celebrations also have spread abroad to amusement parks in places such as Mexico and Brazil that do not have strong Halloween traditions.
"One of the things we know is that this is a worldwide trend. It's not just in the United States," said Beth Robertson, a spokeswoman for the amusement park association.
The parks' embrace of Halloween has been for economic reasons as much as creative ones. Before Southern California's Knott's Berry Farm became the first park with a major Halloween celebration 32 years ago, most regional theme parks closed their gates soon after Labor Day.
Halloween gave the regional parks an extra incentive to extend the season longer and offered the year-round destination parks in Orlando and Los Angeles a marketing tool to get people through their gates during what traditionally was a slow period.
"People just love to be immersed in a frightening Halloween experience. They love giving up that control," said Jim Timon, senior vice president of entertainment at Universal Orlando, who helps plan the park's Halloween Horror Nights.
Scaring up competition
Knott's Berry Farm in 1973 began with just some scary decorations and a few dozen "monsters" lurking in the fog to jump out at unsuspecting guests. This year, the celebration will have 12 mazes, five "scare zones," six live shows and encounter over 1,000 "monsters" roaming the property. The Halloween celebration accounts for about 15 percent of the park's annual business, attracting 500,000 people from as far away as Germany, said Jennifer Blazey, a spokeswoman for Knott's Berry Farm.
"We were the first and there are a lot of copycats out there now," she said.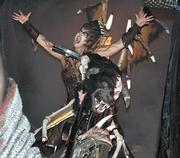 Busch Gardens Williamsburg in Virginia started its Howl-O-Scream celebration in 1999 with two attractions and three shows that operated over three weekends in October. This year, the Halloween celebration started in mid-September with five haunted houses, four "scare zones," five attractions and eight shows and also accounts for 15 percent of the park's annual attendance.
"It's a good business for us, doing it now for seven weekends," said Diane Centeno, a spokeswoman for the park which closes after Halloween.
Kansas City 'Slash'
The parks vary in scare intensity from the child-friendly mellowness of trick-or-treating with Disney characters at Walt Disney World to the more R-rated anxieties generated by the "Slash" show at Worlds of Fun in Kansas City, which is geared toward teenagers and young adults.
"'Slash' is kind of edgier, a magic show with a lot of gore and blood, people cut in half," said Nick Guevel, a spokesman for Worlds of Fun, which started developing a scary Halloween celebration three years ago.
Creatively, theme and amusement parks are well-positioned to handle the wild special effects that celebrants have come to expect from Halloween. Some park officials such as Universal's Timon, spend 11 months planning for the Halloween celebrations. Timon and a handful associates lock themselves in a hotel room each December to plot out concepts for the following year.
"For theme parks to become involved in Halloween, it's kind of a natural fit because it's something that is so easily translated into a live experience," Timon said. "We're able to take what you expect the Halloween experience to be and blow it up a thousand times."
This year, the nation's theme and amusement parks are counting on successful Halloween celebrations more than ever as a season of great promise in the spring gave way to what is expected to be flat attendance for the year because of the hurricanes and high gas prices.
Copyright 2018 The Associated Press. All rights reserved. This material may not be published, broadcast, rewritten or redistributed. We strive to uphold our values for every story published.