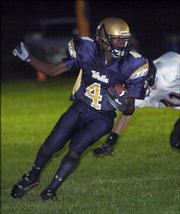 Wichita Word of Life capitalized on a late miscue to score the game-winning touchdown with just over a minute remaining Friday, handing Veritas Christian its first loss of the season, 42-38, at the Youth Sports Inc. fields.
Clinging to a 38-34 lead, Veritas' Casey Woods intercepted a Word of Life pass in the end zone but fumbled during his return attempt, setting up the visitors deep in Eagles territory.
Word of Life (3-4) scored on a three-yard touchdown run, and Veritas couldn't score in the final 1:15 before time expired.
"We had great effort, and we really played a good game," Veritas coach Doug Bennett said. "It was obviously a very tough one to lose."
Despite a strong offensive showing, the Eagles (5-1) couldn't overcome late turnovers and problems with their point-after attempts.
"When you convert only one out of six two-point conversions ... we just have to get better," Bennett said.
Jesse Schultz rushed for 140 yards and a touchdown for the Eagles, while Woods threw for 85 yards and three touchdowns. Marcus Holman also returned a kickoff 72 yards for a score.
Veritas will return to action Friday at St. Marys Academy.
Copyright 2018 The Lawrence Journal-World. All rights reserved. This material may not be published, broadcast, rewritten or redistributed. We strive to uphold our values for every story published.