It matters not if Kansas University holds its season-opening men's basketball scrimmage at midnight or at 6:30 p.m.
People will come.
A near-capacity throng of 15,750 fans -- spectators started lining up at 8 a.m. -- squeezed Friday into Allen Fieldhouse for the 21st annual Late Night in the Phog.
It was KU's first Late Night held in the evening after a new NCAA rule was passed allowing scrimmages to begin during prime time to be more family-friendly.
"Awesome," KU coach Bill Self said of the atmosphere in the storied building.
The aura was enhanced by a new center videoboard that had the fans rocking while watching replays of sophomore transfer Rodrick Stewart's vicious slams in a pre-scrimmage dunk drill.
"It's a pretty good crowd considering high school football, and a lot of students were out of town on fall break -- a pretty good crowd," Self said.
The fans -- 10 high school prospects also were in the house -- were treated to one pre-scrimmage skit instead of the usual four or five.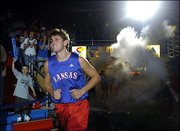 "We decided we'd rather have one good one than five average ones," KU senior Stephen Vinson said.
In the skit, the Jayhawks entered through the northwest tunnel dressed in black suits and ties with shiny gray polka-dot vests and Adidas shoes.
The well dressed players rocked rhythmically to the Rock Chalk chant, then gyrated in rhythm while clapping their hands and stomping their feet.
Also, the four freshmen jumped rope in their fancy duds at center court to the crowd's delight as Stewart and C.J. Giles twirled the rope.
Of course, the players took part in the annual dunk drill. At one point, Stewart put the ball between his legs in midair, then slammed -- an amazing feat.
"I've seen him attempt that 200 times since he's been here," Vinson said. "I think it's the third time he's made it. One for one tonight is pretty good turnout from him."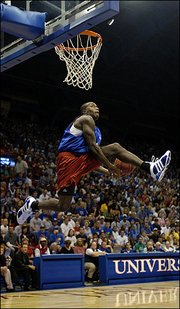 Julian Wright had a strong slam off the board, while Giles and Micah Downs also had some rim-rattlers.
"Coach Self just asked us that in the locker room," Downs said of who was top dunker.
"Rodrick was best dunker; I got second-best. I think it might have been tied. We held it down for Seattle there, me and Rod," Downs joked of the duo, which hails from the Seattle area.
Downs, a 6-foot-8 freshman, was high-point man in a 20-minute scrimmage. He hit five of six shots, including a pair of threes, for 12 points. He also had five boards for the winning Red team, which stopped the Blues, 48-30.
"I was so nervous coming out," Downs said. "It was crazy, wild -- 16,000 people in there, by far the most I played in front of. All day I was excited thinking about it.
"I thought I'd air-ball my first shot by 15 feet. It went in. After that, I felt pretty good. I thought everybody played well. It was a blast."
Freshman Mario Chalmers had nine points off 4-of-8 shooting for the winning team, freshman Brandon Rush hit four of six shots and scored eight points, and the team's other freshman, Julian Wright, was 1-of-6 shooting for two points with two assists. Rush and Wright played for the Blue team.
"We tried to tell Julian to make a layup on his first shot. He tried a 15-footer and shot it 18 feet," Vinson said with a smile after scoring eight points off 3-of-3 shooting with two threes. "I thought all four freshmen showed what they can do."
Self was pleased with the rookies.
"I thought playing in front of the crowd for the first time, they played pretty well," said Self, who will run his team through its first two-hour practice of the regular season this afternoon. "Julian was in a hurry; everyone else had pretty good composure. Julian still did well. (It's just that) you've got to let the game come to you."
Self noted the other rookies could relax after hitting early shots.
"Micah shot a terrible first shot. He made it and it took the pressure off. Brandon made a basket, which took the pressure off and Mario. Julian didn't get one down," Self said.
Giles impressed, scoring seven points with three boards, while Darnell Jackson scrapped inside for eight points. The teams passed crisply, looking like a squad that's taken advantage of a new NCAA rule allowing squads to hold formal practices two hours a week in the offseason.
Russell Robinson had a whopping seven assists.
"They can all pass," Self said. "They seem to share it. We've worked on some pick and rolls. We're maybe further along than we anticipated."
KU's coach, by the way, received the loudest ovation of all in pregame introductions as he walked to the court, his figure plastered on the center scoreboard.
Fans are ready for Year Three of the Self era.
"We'll be able to do some fun stuff with that (scoreboard)," Self said. "They just got it up and running. When they get good at it, it will really be something."
Copyright 2018 The Lawrence Journal-World. All rights reserved. This material may not be published, broadcast, rewritten or redistributed. We strive to uphold our values for every story published.