Douglas County usually goes against the flow of the rest of Kansas.
In the past two presidential elections, the county went for Al Gore and John Kerry while the rest of Kansas fell solidly in President Bush's column. And Douglas County was the only one in Kansas to oppose a constitutional amendment banning gay marriage.
But on the question of evolution and religion, Douglas County marches with the rest of the state, according to the Lawrence Journal-World and 6News poll.
Two-thirds of Kansans believe evolution should be taught in public schools and that it is possible to believe in God and evolution. Douglas County residents followed that trend.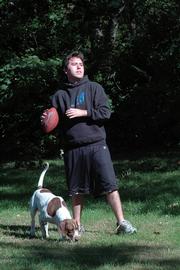 The only departure from the rest of the state was on the question of whether intelligent design should be taught in public schools.
Of those who say they know what intelligent design is, 54 percent statewide supported teaching it. In Douglas County, that figure was just 41 percent.
That lower figure could have been affected by the higher number of residents with post-graduate degrees in Douglas County compared with the rest of the state. The poll showed the higher the education level, the less likely a person would support intelligent design.
Stephanie Baker, a registered nurse from Lawrence who is staying at home to care for her young sons, agreed with the poll results.
"I feel very strongly that it is important for children in schools to be taught the theory of evolution, as it is the most widely accepted theory within the scientific community addressing how we came to be here," she said.
She said intelligent design is based on faith, not scientific evidence, and should be taught in religious or philosophy classes.
"I send my children to church to learn about God, and I will send them to school with the expectation that they will be taught evolution," she said.
But Trevor Ball, a 20-year-old Lawrence resident who attends Johnson County Community College, said he doesn't believe in evolution and doesn't think it should be taught in school.
"It's almost like a religion," he said. "I don't believe humans came from monkeys."
Evolution poll: Kansas by the numbers
Evolution poll: Kansas by the numbers
Copyright 2018 The Lawrence Journal-World. All rights reserved. This material may not be published, broadcast, rewritten or redistributed. We strive to uphold our values for every story published.