Two thirds of Kansans say evolution should be taught in public schools and that there is no contradiction in believing in God and the scientific theory of the origins of life, according to a Lawrence Journal-World and 6News poll.
"The general population believes God and evolution can co-exist," said John Marling, president of Pulse Research Inc., the Portland, Ore., company that conducted the poll for the Journal-World and 6News in cooperation with the Garden City Telegram, Hays Daily News, Ottawa Herald and Salina Journal.
But the statewide survey results also show deep divisions at the crossroads of science, religion and intelligent design, the scientifically unproven notion that life's complexity points toward a creator or designer. About half of Kansans say they know what intelligent design is and half of that group believes it should be taught in school.
The findings of the poll are "highly differentiated by age, differentiated by education and differentiated by gender," Marling said. The poll included telephone interviews with 800 randomly picked Kansans. The margin of error for the poll is plus or minus 3.5 percentage points.
The conflicting responses from Kansans mirror conflicts that have agitated the State Board of Education, bringing national attention to Kansas and the teaching of evolution.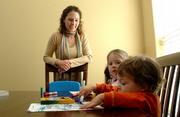 Conservatives on the Education Board have a 6-4 majority and are poised to establish science standards for public school students that criticize evolution and raise questions about its validity.
While Kansas often is knocked as backward, the poll results reflect the national mood about two seemingly irreconcilable views. Science says the universe and everything in it evolved over billions of years, while the Bible says God created all living things in one week. Despite these disparities, a recent Gallup poll showed the majority of Americans accept creationism and evolution.
Evolution
Sixty-six percent of Kansans believe evolution should be taught in school, but that figure varies widely depending on education level.
Fifty percent of those who graduated high school say evolution should be taught, while 75 percent with college degrees believe it should. The chasm widens when comparing those with a grade-school education - 39 percent support the teaching of evolution - to those with post-college graduate degrees - 86 percent.
Those differences, Marling said, "are huge."
Evolution poll: Kansas by the numbers
Evolution poll: Kansas by the numbers
"The higher the education level, the more open that individual is to evolution," he said.
Age also makes a difference, with 76 percent of those from ages 46 to 55 believing evolution should be taught, while 49 percent of those 65 and older saying it should.
Men also are more likely to believe evolution should be taught, a whopping 74 percent to 58 percent for women.
Marling said he was surprised by the difference based on gender.
Allan Cigler, a political science professor at Kansas University, said he believes it is because traditionally women participate in religion in greater numbers than men.
Intelligent design ID'd
Roughly half of Kansans know of intelligent design, the notion that biology is so complex it shows evidence of a creator. Intelligent design, called ID for short, has grabbed center stage in Kansas politics because its advocates led the conservatives to adopt the science standards that question evolution after hearings in May that drew international attention.
Of those survey respondents who said they knew what ID was, 54 percent said it should be taught in school.
Again, age and education made a difference. Young adults and older people and those with a lower education level were more likely to want ID to be taught in school, while middle-aged adults and those with higher education levels were less likely. There was no statistical difference in gender on this question.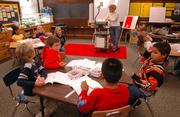 Cigler said some people who believe ID and evolution should both be taught in science class are under the impression that ID is a theory on par with evolution.
In reality, ID cannot be proved and focuses more on criticizing evolution, he said. "It hasn't been well understood," he said.
Co-existence
Meanwhile, 65 percent of Kansans say one can believe in evolution and God. Only 25 percent said the two can't co-exist, while the remaining are unsure.
This issue has rubbed many Kansans the wrong way in the battle over science standards. Many scientists who support the teaching of evolution say it is possible to believe in the theory and still hold traditional religious beliefs because science explains how the natural world came about while religion attempts to answer why.
But many conservatives have said this is a false position.
Recently, Education Board Chairman Steve Abrams, a conservative Republican from Arkansas City, said at a public forum that it is impossible to believe in both evolution and the Bible.
Photo Gallery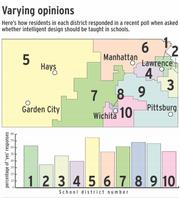 Poll results
But that is exactly what two of three Kansans believe.
Carole Bodine, 59, a bacon slicer for a meatpacking plant in Great Bend, has no trouble accommodating the two.
"I actually believe we did evolve from apes," said Bodine, who participated in the poll. "But I also believe in a higher power."
But Bodine parted company with most scientists when she said creationism and evolution should be taught in schools.
"Why hold information back from children," she said.
But Stephanie Baker, of Lawrence, who has two young children, said evolution belongs in science class while other theories, such as ID, should be taught in other religious venues, such as Sunday school.
"It can be taught as a religious theory or philosophical theory because there is no scientific evidence that supports that," said Baker, who participated in the poll.
Regardless of their positions, many respondents said they were not impressed with how the Education Board was handling the issue.
"I'm not quite in agreement with all that's been going on," said Jerry Allard, who lives near Andover. "Things are getting blown out of proportion."
Cigler, the KU political science professor, said the survey's showing that the majority of Kansans accept evolution and creationism was in tune with national studies on the subject.
"The thing that strikes me is how undifferent Kansans are from the rest of the country," he said.
In 1999, the last time a conservative majority on the board tried to de-emphasize evolution, KU did a statewide poll to mirror a national poll on religion and evolution.
The national results and Kansas results were almost identical, Cigler said.
About the poll
The Lawrence Journal-World and 6News, in cooperation with the Garden City Telegram, Hays Daily News, Ottawa Herald and Salina Journal, commissioned Pulse Research to do a statewide survey of Kansas residents on the topics of evolution and intelligent design.
Pulse Research, an independent market research firm based in Portland, Ore., was founded by a former newspaper publisher with 24 years of experience in the industry.
It was a random sample telephone survey based on 800 interviews completed between Sept. 30 and Oct. 5. Calls were spread across each of the state's 10 State Board of Education districts.
The margin for error was plus or minus 3.5 percentage points, at the 95 percent confidence level.
The interviews were conducted between 4 p.m. and 9 p.m. Tuesday through Friday, and between noon and 8 p.m. Saturday and Sunday.
There was no incentive offered to those who agreed to participate. Many of the participants also agreed to subsequent interviews with reporters to more fully explain their views on the topics.
Pulse Research is one of the nation's largest publication research firms, having completed more than 3,000 surveys for more than 1,800 clients.
Copyright 2018 The Lawrence Journal-World. All rights reserved. This material may not be published, broadcast, rewritten or redistributed. We strive to uphold our values for every story published.