The 14U Prospects, who hadn't played a baseball game in two weeks, hoped a light drizzle Saturday would be all that Mother Nature had in store for their afternoon game with Home Plate Baseball at Sport 2 Sport.
"My team came out ready to play today after the two-week layoff we've had due to the weather," Prospects coach David Cesare said.
While the drizzle disrupted the play of the game soon after the first batter came to the plate, it did not cancel the contest.
Behind the pitching of Riley Price, the Prospects took early lead that propelled them to a 9-7 victory over Home Plate Baseball.
"Our starting pitcher gave us confidence," said Cesare, whose team improved to 3-2 on the year. "We new we had good defense to win the game."
Price didn't let a slippery mound or wet ball bother him as he struck out the first three Home Plate batters he faced.
In the bottom of the inning, the Prospects put three runs on the scoreboard thanks to RBIs from Preston Randolph and Nick Cesare and a hit from Kenton Riley.
Home Plate got a run in the top of the second, but the Prospects turned a couple of errant throws into a five-run inning.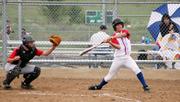 Spencer Mann showed his base running skills when he stole third before coming around to score. Price and Randolph turned hits into runs, and Riley and Daniel Burden converted walks into two more scores to give the Prospects an 8-1 lead.
"We were aggressive on the bases early and took advantage of the mistakes the other team made," Cesare said. "We made things happen."
A Home Plate pitching change clearly limited the Prospects' offense, as they were only able to score one more run the rest of the way.
Cody Jones made the score 9-2 with a run for Home Plate in the fourth inning.
Neither team scored in the fifth, but Home Plate exploded in the last inning for five runs, even though it was too little too late.
Ryan Scott drove in two runs with two outs, and an overthrown pitch scored two more.
The sloppy conditions created chaos for Home Plate early in the game and plagued the Prospects at the end of the game.
"I knew with the weather I needed to throw hard pitches," said Price, who allowed only one run in three innings.
"The mound become slippery as the rain picked up, but I had to adjust to the situation."
Home Plate had a more difficult time adjusting to the conditions.
"We didn't capitalize and create opportunities for ourselves," Home Plate coach Wilson Kilmer said. "We needed to focus more on our execution."
Copyright 2018 The Lawrence Journal-World. All rights reserved. This material may not be published, broadcast, rewritten or redistributed. We strive to uphold our values for every story published.