Lincoln. Neb. — Nebraska coach Bill Callahan's West Coast offense finally is up and running.
Actually, it's up and passing.
Zac Taylor finished a record day with an eight-yard touchdown pass to Cory Ross in the second overtime, giving Nebraska a 27-20 victory over No. 23 Iowa State on Saturday.
The Cornhuskers (4-0 overall, 1-0 Big 12 Conference) avoided losing to Iowa State (3-1, 0-1) for the first time at home since 1977 and finally found some offensive spark after muddling victories in their first three games.
Taylor completed 36 of 55 passes for 431 yards on a day the Huskers all but abandoned their running game. He set school records for completions and yards.
"It's the greatest feeling in the world coming off that field," Taylor said. "Luckily, we got the win, and we had to throw the ball to do it. I'm just glad coach Callahan had faith in our passing game."
The Huskers had come into the game 108th in the nation in passing and 107th in total offense. But with Iowa State using a lot of man-to-man coverage, Callahan called on Taylor to pick apart the Cyclones with short passes to 10 different receivers.
During one stretch of the first half, Callahan called 18 straight pass plays.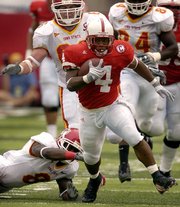 "We decided we were going to continue to press on with the passing game," Callahan said. "We saw some things we wanted to do in the passing game and we felt confident in our pass protection. The circumstances surrounding the game dictated that we throw a little bit more."
Ross set a school receiving record for a running back with eight catches for 131 yards and two touchdowns.
The Cyclones picked up 10 yards on their first two plays of their second overtime possession. But Bret Meyer passed incomplete, ran for no gain and was off-target with his final two passes, prompting the players on the Nebraska sideline to storm the field in celebration.
"This was a 15-rounder and then some," Iowa State coach Dan McCarney said. "In the end, Nebraska made more plays than we did."
Iowa State, the defending co-champion of the Big 12 North, lost for the first time in five road games.
Copyright 2018 The Associated Press. All rights reserved. This material may not be published, broadcast, rewritten or redistributed. We strive to uphold our values for every story published.