About 85 percent of the musicians in the Kansas University Symphony Orchestra have been playing in the group for at least a couple of years.
But even the newest recruits - freshmen and graduate students who just entered the music program this fall - have experience and maturity to offer, says Maestro Nicholas Uljanov, who has directed the group since 2003.
For their first concert of the season, the players will tackle pieces by Samuel Barber, George Frederick Handel and Dmitri Shostakovich.
"We should be really proud of these kids," Uljanov says. "They're working so hard right now. The Barber and Shostakovich are two very, very difficult pieces, and they're working very, very hard."
The performance will be at the Lied Center, the same venue where world-renowned professional orchestras play when they come to town.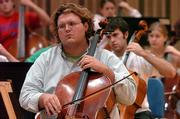 "I continue to emphasize that the concert in the Lied Center is an obligation for us to play like professionals," Uljanov says. "We have an audience, and the audience bought tickets."
The orchestra will begin opening night with the Overture to "School for Scandal," by Barber. Scott Watson, KU euphonium and tuba professor, is the featured soloist for the evening and will perform Handel's Concerto No. 3 in G Minor. The concert will conclude with Shostakovich's Symphony No. 5 in D Minor.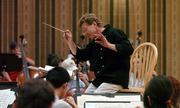 A preview of the orchestra's work is scheduled for 11:15 a.m. Tuesday on Kansas Public Radio (FM 91.5). Uljanov will be interviewed, and the station will play a recorded selection of pieces that will be featured on opening night.
Uljanov notes that the music on this first concert foreshadows the direction of the season.
"My idea is, this year, to bring a little music of contemporary composers, especially with emphasis on American music," he says. "We will continue to bring our audience to contemporary music."
Copyright 2018 The Lawrence Journal-World. All rights reserved. This material may not be published, broadcast, rewritten or redistributed. We strive to uphold our values for every story published.