Hunter Davis is standing in front of dozens of classmates, portraying a professor in a high-energy play about how a group of ambitious and insightful college students thinks it has come up with the perfect investment vehicle for the world's second-richest man, a man already considered to be the world's greatest investor.
But Davis, a Kansas University finance major cast as the vaunted, self-confident and caffeinated "Professor Snickers," still isn't sold on the idea.
"Let's get real," a hyped-up Davis says, having already beer-bonged a can of Lipton Iced Tea in front of his fictional class and real-life classmates, during a dress rehearsal last week. "The day Warren Buffett buys Pella is the day the Jayhawks beat Nebraska in football."
Laughs come from every corner of the room, both at the silliness of Davis' portrayal and the hope his line reveals.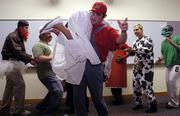 That's because Davis and his fellow classmates know they'll be on a bus Friday to Nebraska, ready to put their research and dignity on the line for a chance to convince the famed "Oracle of Omaha" to buy into their plan.
Buffett, chairman and chief executive officer of Berkshire Hathaway Inc., is scheduled to welcome more than 100 KU students to his Omaha offices for a visit Friday. It will be the culmination of a semester spent researching companies, fine-tuning reports and putting together performances that just might earn them an approving nod - and an agreement to invest - from the 75-year-old market guru who will be listening intently in the audience.
The students understand the stakes. If Buffett follows through on one of the class' suggestions - to buy into Pella Corp., Schwan Food Co. or both - everyone in the class would get a B share of Berkshire, the Omaha-based investment operation that already owns the likes of Dairy Queen, GEICO Insurance, Nebraska Furniture Mart, and has stakes in dozens of commercial giants from Anheuser-Busch to Wal-Mart.
Friday's closing price for a Berkshire B-share: $2,907.
"He gets a million reports every day," says Davis, who admits to never having acted before, but can't wait to pitch an idea to an influential audience of one. "This is a once-in-a-lifetime opportunity."
'Buffett Investment Project'
On paper, the class looks like a fairly typical numbers-crunching exercise. In FIN 400: Security Analysis, advanced undergraduates are exposed to the theory and practice of such analysis, with a focus on understanding "asset pricing in dynamic financial markets" to bridge early lessons of investment theory to the practice of stock selection and active portfolio management.
That's what the syllabus says.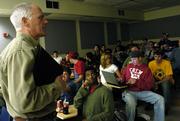 But read deeper into the document and the class' tangible purpose comes into focus, known simply as "Buffett Investment Project."
Mark Hirschey - Anderson Chandler Distinguished professor of business at KU and real-life inspiration for Davis' "professor Snickers" - makes the terms of the class project easy to understand:
¢ In 2003, students from the University of Tennessee met with Buffett, gave him a copy of the autobiography of Clayton Homes founder Jim Clayton and then reaped the benefits when Buffett bought into the manufactured-housing operation: Each of the students received Berkshire B shares, and the professor received an A share.
¢ Heading into this fall semester, Buffett owned 476,102 shares of Berkshire A stock, with each one worth $90,700.
"Most of you have heard of a 'cool million,'" Hirschey writes. "Think of Buffett's holdings in Berkshire Hathaway as a frozen solid $43.2 billion. You might even say that Buffett has 43.2 billion reasons to think his stock-picking and private-company investment ideas are better than anything suggested by anyone else.
"In fact, the idea that a class of students could come up with anything interesting for Buffett to ponder is so far-fetched that it makes one want to take up bowling, or pinochle, or pinocchio."
Or acting.
15 minutes for fame
Students in the class are responsible for putting together not only investment proposals, on paper, for Buffett to consider. They also assemble 15-minute presentations, or skits, that could be performed for a man whose money, knowledge and advice they seek.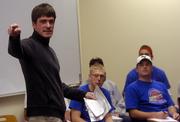 That's why dozens of students packed into a small lecture room a week ago tonight at Summerfield, anxious about the opportunities ahead. Four groups had reached the finals: one for Harley-Davidson, two for Schwan Food Co. and the last for Pella Corp.
Davis' group, dubbed "The Berkshire Boys," lays out the case for Pella by following the class model. Davis, as Professor Snickers, questions six students playing the role of students, each of them hoping to convince Buffett to buy into the pervasive - and private - maker of windows and doors.
Through turns both comical and informational, the students make their case:
¢ With the residential market being Pella's largest, a recent downturn in the market could make the company's anticipated acquisition price an especially good value of $1.75 billion - in line with Buffett's belief of 11 times pre-tax earnings.
¢ Pella's annual sales are $2 billion and have quadrupled since 1997 - well ahead of one of Pella's biggest competitors, Anderson Windows.
¢ Pella's energy-efficient doors and windows are attracting commercial buyers, a market with plenty of room to grow.
Better yet, a student says, Pella could be an even better investment than Microsoft Corp.
"The only windows in the world that are better than Microsoft's are made by Pella," the student says, to more laughter.
Double feature ahead
The performances reveal plenty of financial effort but even more laughs. One group plays off "The Apprentice" and asks contestants to show why they would be the best to make an investment pitch to Buffett on behalf of Schwan Food Co. Another puts Buffett's face on photos taken at the Sturgis motorcycle rally, hoping to steer him toward buying shares in Harley-Davidson.
But two productions are chosen by Hirschey to take the stage in front of Buffett next week.
In one, students stage a mock wedding to celebrate the happy merger of "Bobby Berkshire" and "Susie Schwan," representative of the home-delivery food company. Elvis Presley officiates the ceremony, while a host of representatives of Berkshire holdings - a World War I flying ace for Red Baron Pizza, "Bessie the Cow" for Dairy Queen and the robot-dancing gecko for GEICO insurance - while the two "consummate their merger."
In the other, Hunter and his fellow students poke fun at the whole class, while focusing on the information and research that could let their hard work pay off.
After their rehearsal, "The Berkshire Boys" are reminded that KU did manage to snap its 36-year losing steak to Nebraska in football by beating the Cornhuskers, 40-15, in Lawrence.
"What's cooler than this?" said Jim Bridges, a senior from Oklahoma City and member of "The Berkshire Boys." "We get to put this one on our resume: Presented an investment idea to Warren Buffet. And it'll be cool just to be in his presence. He's the second-richest guy in the world and the greatest investor ever."
Hirschey, having observed the skits with a smile and a discerning eye, looks forward to loading up two buses for the trek to Omaha. He knows the students both deserve the chance to make their pitches and to learn life lessons from an investment sage.
"He's a very generous person," Hirschey says. "It's phenomenal."
Copyright 2018 The Lawrence Journal-World. All rights reserved. This material may not be published, broadcast, rewritten or redistributed. We strive to uphold our values for every story published.