College Station, Texas — Battered and bruised, Vince Young and No. 2 Texas still are undefeated and a step closer to the Rose Bowl. Even if it was a much tougher step than most expected.
While far from perfect, Young and the Longhorns were good enough to keep their national-title hopes intact with a tough 40-29 victory Friday over Texas A&M.;
Ramonce Taylor ran for two touchdowns, Cedric Griffin returned a blocked punt for a score, and the Longhorns survived Young's shakiest game of the season.
The Heisman Trophy candidate wasn't even the best quarterback on the field against the Aggies, and for the first time since Texas won at Ohio State by three way back in September, the Longhorns had to put in a full 60 minutes of work to notch the W.
"I was never nervous. That's not me," Young said. "Nervousness, scariness, that's not even in our vocabulary."
Young is one of the leading contenders for the Heisman Trophy, but A&M; freshman Stephen McGee made the plays and provided the inspirational leadership the Longhorns usually get from their quarterback.
Starting in place of injured senior Reggie McNeal, McGee ran for 108 yards and a pair of touchdowns as A&M; made a strong run at pulling off one of the biggest upsets in a 111-year-old rivalry.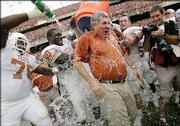 "I wanted to have fun and lead these guys. I want to do it with everything I have," said McGee, who raised his arms after both of his touchdowns to whip up the excited home crowd. "I'm already sore. I know I'll be sore tomorrow."
Young came in likely needing a big game to keep pace with USC's Reggie Bush in the Heisman chase - and his penchant for making big plays in Texas' biggest games seemed to guarantee it.
Instead, he struggled against a defense ranked 109th in the country with 162 yards passing, 19 rushing and two turnovers that led directly to Aggies' touchdowns. He did throw for a touchdown and led two key late drives for field goals.
"There are some great guys in the running," for the Heisman, Young said. "I just want to keep playing and keep winning .... may the best man win."
Despite Young's off game, Texas (11-0, 8-0) moves on to the Big 12 Conference title game next Saturday against the winner of the North Division. Win that game and the Longhorns are a lock for a return trip the Rose Bowl on Jan. 4 to play for the Bowl Championship Series title.
The Aggies (5-6, 3-5) did everything they could to spoil those plans.
Behind McGee and the punishing running of 265-pound freshman Jorvorski Lane, the Aggies had the Longhorns reeling before running out of gas late in the fourth quarter. Lane ran for 104 yards on 17 carries.
The Aggies finish with their second losing season in three years under coach Dennis Franchione. A win would have made the Aggies bowl eligible.
"I think I was the only one in the country who anticipated this," Texas coach Mack Brown said. "I told the guys ... they're going to pull it all out because they've got nothing to lose. I was really, really not proud of myself that I was right."
Taylor ran for 102 yards on 15 carries for Texas. His second touchdown, an eight-yard scamper through the right side in the third quarter capped a 10-play, 80-yard drive after the Aggies had taken a 22-21 lead on McGee's 11-yard touchdown run.
The Longhorns got the critical blocked punt on A&M;'s next possession when Michael Griffin crashed over the left side. Cedric Griffin snared the ball in mid-air and cruised into the end zone for a 34-22 Texas lead.
McGee's second touchdown - a one-yard run - got the Aggies within five before the Longhorns stretched the lead on David Pino's 41-yard field goal. Pino also kicked a 29-yarder with 2:22 left for the final points.
While the Longhorns own a six-game winning streak over their rivals, they had to feel lucky to get out of this one.
The Aggies outgained Texas 395-336, had more first downs (22) and found a weakness in Texas' run defense by chewing up huge chunks of yards and time. The Aggies held the ball for 35 minutes.
"They played their hearts out," said Longhorn defensive tackle Rod Wright. "They ran a whole lot of options and the quarterback was able to scramble."
Texas led 14-0 in the first quarter thanks mostly to A&M; mistakes: an interception and a short punt that set up Texas with short drives for TD runs by Henry Melton and Taylor.
"Now it's time for the second part of the season and the finish," Young said. "Now, we prepare for that."
Copyright 2018 The Associated Press. All rights reserved. This material may not be published, broadcast, rewritten or redistributed. We strive to uphold our values for every story published.