New York — In many ways, fashion is about following trends. Think of all the women wearing velvet shrunken blazers with slim-leg jeans and stacked-heeled boots, carrying a studded hobo handbag.
Sometimes, though, it's refreshing to see someone who rebels against the pack - someone who wears something unique, something that can't be bought at the mall or even at a tony department store.
If you want to be the only one in the room in that special dress, consider a vintage piece.
The City Opera Thrift Shop in New York City holds two major vintage events each year, saving their best designer pieces for those fundraisers. The most recent one featured a metallic Gucci dress and a two-tone green asymmetrical dress from Pauline Trigere. A gold-knit ensemble had a pristine Bergdorf Goodman label, which confirmed its pedigree without boasting a name.
That's the kind of purchase that can be a bargain, manager Jay Thompson explains.
"These are extraordinary pieces for collectors, or for anybody," Thompson says. "Sometimes it's not a 'label.' Maybe it was something made by a dressmaker for the original owner. That's really special."
Some pieces come to the store straight off the runway. "Oscar de la Renta is a big supporter of the opera," Eric Hagmueller, director of retail operations, adds with a wink.
Many pieces come from estates, when grandchildren clean out closets.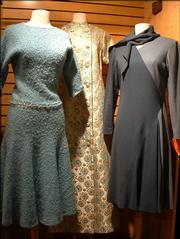 Some people, though, hold on to heirlooms.
"If I have a few pieces from my grandmother or mother, those are things that are with me forever and those people are with me forever," says Alison Houtte, who, with her sister Melissa wrote the new book "Alligators, Old Mink & New Money: One Woman's Adventures in Vintage Clothing."
"When I carry grandma's evening bag, I get compliments and it's such a good story. It's a good conversation piece," Houtte adds. "There's an energy to vintage clothes."
Designer Jill Stuart's upcoming spring collection looks like it was discovered in an antique trunk in the attic of a charming Victorian home.
Stuart has been a vintage aficionado for years and has more than 100,000 pieces - some dating back to 1880 - in her collection. She has particular soft spots for cocktail dresses, shoes, perfume bottles and vintage wallpapers.
Details from those pieces work their way into her new garments.
"I get my inspiration mainly from the artisan qualities, shapes, fabrics, prints and construction of many of these pieces, which is a challenge to manufacture today, and then I interpret many of them in a modern way," Stuart says. "I am always looking for some new aspect in some uncovered gem that inspires me, much like a song, a movie or any other medium. I'm always looking for an elusive, diaphanous handmade quality that is not over-commercialized like many other brands, to hang my hat on."
Celebrities are turning to vintage so they don't look like a cadre of clones, says Houtte, a former model and owner of the vintage shop Hooti Couture in Brooklyn. "You see them wearing old Dior and Balenciaga - and getting a lot of attention."
People are drawn to different vintage pieces for all sorts of reasons - emotional, financial and personal style, among them.
One of Houtte's favorite items is an alligator handbag with feet and head. "Some people call it roadkill and others call it chic." Another is a white polyester dress with three black arrows shooting up the front to the bust.
"When you're shopping and looking at the rack in a vintage store, there aren't five or 18 versions of the same dress, there's one. You try it on and it's a hit or a miss," she says.
However, City Opera Thrift's Hagmueller offers a bit of advice for vintage virgins: Don't determine size by the number written on the label. "Sizes have shifted, mostly getting bigger. An 8 before isn't an 8 now."
The general standard for vintage pieces is that the garments are in good, wearable condition. Things mostly are sold "as is" and customers should carefully examine pieces before buying them. Check to see if the original label is intact, too.
Copyright 2018 The Associated Press. All rights reserved. This material may not be published, broadcast, rewritten or redistributed. We strive to uphold our values for every story published.