St. Louis — Kurt Warner led the St. Louis Rams to two Super Bowls and won a pair of MVP awards, and legions of fans still have not come to grips with his departure.
Dial up sports talk radio any day during the football season, and invariably the perceived shoddy treatment regarding Warner losing the starting job to Marc Bulger in 2003 - and his ultimate release before the 2004 season - will come up. So his return to the city that witnessed his rise to fame could negate some of the Rams' dome-field advantage in today's game against the Arizona Cardinals.
"He did so much for this city when he was here, so much for this organization," Rams wide receiver Torry Holt said. "He never did anything bad in my eyes for them to treat him any other way."
Even if he is 0-5 as the starter for a 2-7 team, the fans will remember the glory days.
"You always want to come back and feel some love from everybody there," Warner said. "But at the same time, I'm realistic to know I'm going to be wearing a Cardinals uniform, and I'm going to be the team that's hunted.
"Everything I think about the city isn't going to be dictated on whether I get a great ovation on Sunday or they boo me."
Bulger believes it'll be a hero's welcome. He's not complaining.
"I'm sure if we play each other, it'll always come up," Bulger said. "Who knows? It doesn't bother me. It gets to be a boring story, but you keep talking about it."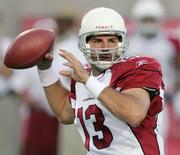 Especially if it's the best story line by far, considering the Rams are 4-5 after a loss at Seattle that all but clinched the NFC West for the Seahawks, and the Cardinals have dropped three in a row.
Warner is trying to become the first Cardinals quarterback to throw for 300 yards in three consecutive games, and the attempt will come at the scene of some of his greatest triumphs. In 24 games in the Edward Jones Dome, he has completed 67.6 percent of his passes for 51 touchdowns.
Regardless of how his career has foundered since, Warner said leaving town was a good thing for his career. When the Rams cut him loose, they had concerns about his oft-injured thumb that affected his throws, and a pocket presence that became more jittery.
Warner started nine games for the Giants last year before losing his job to rookie Eli Manning, and then landed in Arizona.
"I wasn't going to play in St. Louis, so there's no question that was the best thing for my career," Warner said. "Have I had the success that I had there? No, I haven't. It's hard to find."
Copyright 2018 The Associated Press. All rights reserved. This material may not be published, broadcast, rewritten or redistributed. We strive to uphold our values for every story published.