Lindsborg — Jim Richardson remembers a time not that long ago when Kansas farmers wore overalls and fedoras. In small towns and rural areas around the state, women wore print dresses and children were taught in one-room schoolhouses.
Those images were part of the landscape in 1970 when Richardson, then 22, set out to photograph "the everyday stuff that made up everyday life in Kansas."
What he didn't realize then is that the everyday stuff of the 1970s would be hard to find in 2005. Most farmers now wear jeans, women aren't so fond of print dresses, and there are no more operational one-room schoolhouses in the state.
But the images endure. About 30 of the black-and-white photographs that Richardson took between 1970 and 1974 are on display at the gallery he owns in Lindsborg.
The show, fittingly titled "Vintage Kansas," documents people and scenes no longer easily found in Kansas. Some of the photos have never been published.
Richardson, 58, is a renowned documentary photographer, not only of Kansas but also of the world. He works on contract for National Geographic Magazine and as a contributing editor of National Geographic Traveler. The Kansas native grew up on a small dairy farm near Belleville and has lived in Lindsborg since 1997.
In 2004, National Geographic devoted 53 pages and its cover to his 30-year documentary project on Cuba, Kan. The town hosted a parade in his honor when the issue was published.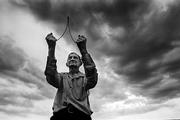 Richardson is convinced that the images in "Vintage Kansas" will mean something to most Kansans, even if they don't know the people in the photographs.
Poring over a picture of a beaming great-grandmother, he says viewers might not know Mrs. Schintaffer, but they've probably encountered other proud matriarchs in print dresses and aprons.
Pictures in the show include farmers in dust storms on open tractors, young couples and landscapes of old farm houses that have since been razed.
Richardson shakes his head at a photograph he took at a dance. There's only one other place in the world that could compare to the raucous dances he witnessed in Pottawatomie County, he says - a nightclub he once visited in Tajikistan.
The images make Richardson nostalgic for a different time in Kansas life.
"If there is anything I would regret us losing, it's not the overalls and print dresses but the attitude that the print dresses and overalls implies," he says.
He remembers a conversation he overheard two farmers having in Cuba, when one said to the other, "A clean shirt and a clean pair of overalls is good enough."
Like his subjects, Richardson is unpretentious and doesn't want to tell viewers how to feel about his pictures. He wants them to relate to the images based on their own experiences.
He plans to share some of the stories about the people in the photographs, and he hopes guests will offer a few of their own about similar Kansans they've known.
"It will be a wonderful way to recall the situations and people. It's like looking through a family album with a big group of people," says Richardson's wife, Kathy, who manages the gallery. "These will be the things you'll recognize."
Copyright 2017 The Lawrence Journal-World. All rights reserved. This material may not be published, broadcast, rewritten or redistributed. We strive to uphold our values for every story published.