Not too long ago, if a member of the cash-strapped Kickapoo Tribal Council had to go to Washington, D.C., to do business, someone had to sell a cow to cover the costs.
"Time to sell a cow," Chris Dunn, head of the tribe's planning department said, laughing. "That's what the old-timers say. Whenever somebody had to go somewhere, they sold a cow to pay for the trip."
The once impoverished tribe no longer looks to the herd for their cash cow. Tribal officials won't say how much the Kickapoos' Golden Eagle casino generates in a year, but those who study the industry say it's between $8 million and $12 million.
"We can take care of ourselves now," said Kickapoo Tribal Chairman Steve Cadue. "Before, we were almost totally dependent on the federal government.
"The casino has given us self-esteem."
They're not alone. The other Kansas tribes - Sac and Fox, Iowa and Prairie Band Potawatomi - all have casinos and appear to be prospering as much or more as the Kickapoos.
It isn't just the reservations that have been boosted by the gambling. The impact of the tribal casinos on the northeast Kansas economy has been significant.
"The Prairie Band's casino is by far our largest employer; it employs about a thousand people," said Jonathan Wimer, executive director at the Jackson County Development Corp. "The tribe itself employs about 300. It's our second-largest employer."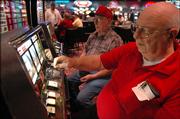 Though the casinos have fueled the economies of their rural counties, indirectly boosting state tax collections, the state receives no direct cut from money generated by the tribal casinos. Some would like that to change.
Among legislators, the casinos' success hasn't gone unnoticed. Many see expanded gaming as a way to raise money for schools without raising taxes.
"It's front and center," said Sen. Pete Brungardt, R-Salina, chairman of the committee that handles gaming legislation.
Two proposals are on the table, two more are in the works:
l One plan would allow state-owned casinos in or near Dodge City, Junction City, Kansas City, Pittsburg and Wichita, as well as slot machines at the pari-mutuel dog and horse tracks. Supporters have said the plan would send $300 million per year to the state treasury.
l Meanwhile, the Kickapoo and Sac and Fox tribes are pushing a compact that would allow them to open a $210 million hotel-and-casino complex near Kansas Speedway in Wyandotte County. The compact has been signed by Gov. Kathleen Sebelius, but lacks legislative endorsement.
The compact calls for the state getting a share of the revenue - up to $50 million annually -while preventing other casinos within 100 miles; other gambling would be limited to 600 slot machines each at dog and horse tracks in Kansas City, Pittsburg and Wichita.
Rolling dice
The Potawatomi, Kickapoo, and Sac and Fox last month hired a research firm to study prospects for an 80,000-square-foot casino near Galena.
And the Iowa Tribe of Kansas and Nebraska has proposed a compact for building a $270 million gambling resort in Park City, a Wichita suburb. Its revenues would be shared with the state.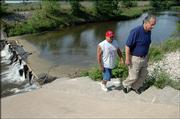 Most of that proposed project would be financed by the Mashantucket Pequots of Connecticut. The Pequots own and operate Foxwoods Resort Casino, the world's largest casino.
Though much is being planned and considered, it is anyone's guess which, if any, of the proposals will advance.
"At this point, it's not clear what's going to happen," said Sebelius' general counsel Matt All.
Few expect the Park City proposal to leave the drawing board anytime soon. The Galena proposal won't be ready for several months.
Keeping it tribal
The tribes are keeping a keen eye on the developments, and, if gambling in Kansas is expanded to include state-owned casinos that will compete with their enterprises, tribal leaders pledge to fight that legislation in court.
"We oppose that bill," said Kickapoo Tribal Chairman Cadue. "We believe it is unconstitutional. The way the constitution now reads, the state can't operate a casino. To do it, the constitution would have to be amended.
"We would file actions against it in court," Cadue said. "I'm sure the other tribes would, too."
There's little doubt that opening five state-owned casinos would hurt the on-reservation casinos, which routinely draw busloads of gamblers from Wichita.
"You would see a slow death of the tribal nations' casinos," said Freda Perkins, vice chairwoman of the Sac and Fox tribal council.
"It would be devastating," Cadue said.
Raiding the casinos' customer base, he said, would irreparably damage tribal efforts to improve life on the reservations.
Health and schools
"We have spent our money wisely," Cadue said. "Since the casino opened, (Kickapoos) have built roads, schools, a community center, a senior center, a health clinic - all of these things, we didn't have before. You must understand, before the casino, we did not have an infrastructure. Now we do - or we're starting to."
The improvements are especially apparent at the Kickapoo Police Department.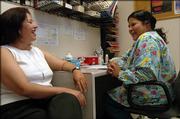 "Before the casino, we had four officers and only one vehicle - it was like O.J. Simpson: an old Ford Bronco, no lights, no siren," said Kickapoo Police Chief Tom Conklin. "If you needed backup, you had to wait for the county (deputies) to show up. Now, we have nine officers and eight vehicles. We can pretty much handle things ourselves. It's a lot better."
All four tribes use casino revenues to underwrite full-coverage health insurance for casino and tribal employees.
"Our premiums are over a million dollars a year," said Leon Campbell, chairman of the Iowa Tribe of Kansas and Nebraska's tribal council.
"I guarantee you that most of these people did not have health insurance before," Campbell said, "and if we weren't providing it, the costs to the state would be astronomical."
Rep. Bruce Larkin, D-Baileyville, agreed.
"I have a number of retired people in my district who drive over there to work so they can get the health insurance," Larkin said. His district includes Nemaha and Brown counties.
Larkin said he feared the debate over additional casinos would shortchange Brown and Jackson counties.
"I don't think many legislators have considered the impact it would have," Larkin said. "There's been very little discussion on it."
All four tribes use casino revenues to fund scholarships for tribal members.
"We're putting 25 kids through college right now," said the Sac and Fox's Perkins.
In recent years, the tribes have contributed roughly $100,000 to Haskell Indian Nations University. The Kickapoo Tribe helped fund the Haskell Film Festival earlier this year.
Closing casinos
Under terms of the Wyandotte County compact, the Sac and Fox and Kickapoo would close their reservation casinos within seven years, triggering the loss of several hundred jobs in Jackson and Brown counties.
Cadue defended the proposed closings, noting that without that provision the compact would stand no chance of approval from state officials. And, he said, the tribe cannot risk legislators deciding to expand gaming without a competing offer from one or more tribes.
Though it's true that closing the Kickapoo and Sac and Fox casinos would put several hundred people out of work, he said, it also would mean "considerably more" money for the tribes.
Plans call for the tribes using this money to diversify their on-reservation economies.
"We want to in bring in light manufacturing," Cadue said.
"Casinos buy a lot of stuff - paper, glassware, linens," Perkins said. "We want to come up with something that lets the casino fill those needs on the reservation."
John Dashner, president of the Hiawatha Foundation for Economic Development, said losing the Kickapoo and Sac and Fox casinos would "hurt us terrifically."
Still, he said, he doesn't fault the tribes for looking out for themselves.
"If they can get into a hotter market," he said, "I wouldn't blame them."
Copyright 2018 The Lawrence Journal-World. All rights reserved. This material may not be published, broadcast, rewritten or redistributed. We strive to uphold our values for every story published.