Baku, Azerbaijan — Presidents and oil company executives will inaugurate a 1,100-mile pipeline today that will carry millions of gallons of crude from the landlocked Caspian to the Mediterranean - a much-needed alternative to Mideast energy resources.
Analysts say the $3.2 billion, U.S.-backed Baku-Ceyhan pipeline also could help bring stability to the troubled region. The Caspian is thought to contain the world's third-largest oil and gas reserves.
"This global project will completely change the economic situation in Azerbaijan, and in the political sense it will influence the rest of the Caucasus and Central Asia," said Vafa Guluzade, a former foreign affairs adviser to the Azerbaijani government.
Built by a consortium led by BP PLC, the pipeline runs from Azerbaijan through Georgia to the Turkish port of Ceyhan.
Until now, Caspian states sent almost all their oil through Russian pipelines to reach world markets. The new route will neutralize any Russian attempts to use economic levers to bring former Soviet republics back under its wing, Guluzade said.
The pipeline "will carry a huge volume of oil, and Russia is nervous that it is being deprived of big money and also the possibility to dictate its terms to these states," he said.
Azerbaijan will earn taxes and royalties on the oil, while Georgia and Turkey are to profit from transit fees.
The presidents of Azerbaijan, Kazakhstan, Georgia and Turkey are to be on hand - along with U.S. Energy Secretary Samuel Bodman and oil executives - to watch Azerbaijani President Ilham Aliev open the taps today for the first symbolic drops of oil to enter the pipeline at the Sangachal oil terminal, about 25 miles south of the Azerbaijani capital, Baku.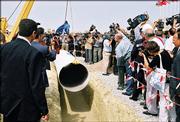 Aliev and Kazakhstan President Nursultan Nazarbayev planned to sign an agreement on transporting Kazakh oil through the new pipeline Tuesday.
"We view this as a significant step forward in the energy security of that region," Bodman said Tuesday in Moscow.
The president of the pipeline consortium, Natik Aliev, said it would take up to a month and a half to fill the Azerbaijani section of the pipeline. The Georgian part will be ready after that, and then the Turkish stretch, which Turkish authorities have said should be filled by Aug. 15. It will take approximately 420 million gallons of crude to fill the entire pipeline.
Bodman said deliveries would begin in the fall.
Copyright 2018 The Associated Press. All rights reserved. This material may not be published, broadcast, rewritten or redistributed. We strive to uphold our values for every story published.