If 2nd Lt. James Lehner felt nervous Monday, entering the U.S. Army during a time of war, he didn't show it.
Just the opposite, in fact.
"I think it's exciting," Lehner said, after a ceremony in which he and 40 Kansas University ROTC graduates were commissioned as military officers. "It's a good time to be in the armed forces; it's a good time to serve your country."
More than 700 family and friends attended Monday's event in the Kansas Union Ballroom. The new officers will enter a variety of military specializations: pilots, submariners, intelligence officers, engineers, dentists, meteorologists and more.
And some will literally become foot soldiers in America's war on terrorism. Lehner will attend infantry training at Fort Benning, Ga., after which he hopes to be sent to Iraq.
"We have a lot of training to do after we become officers," Lehner said of his immediate plans. "You still need to learn your skills. So I need to go to infantry school to learn all the skills it takes to lead men in combat."
KU is one of about 50 colleges in the country with Reserve Officer Training Corps programs for all branches of the military. Though ROTC enrollment has dipped nationally, officials with the programs on campus say their recruiting has held steady and even increased slightly in recent years.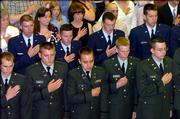 Navy Capt. Richard High, an associate professor with KU's Naval ROTC program, said the university's cadets held a cumulative grade point average of 3.35.
"I want you to know we're very proud for the University of Kansas to be part of the history and service that is represented here," Chancellor Robert Hemenway told the young officers.
The officers were given their oaths of office by Marine Lt. Col. Ernest Garcia, a KU alumnus who now serves as chief of staff at the national headquarters for Selective Service.
"The profession you have chosen is the profession of arms, make no mistake about it," Garcia said. He added: "You are the reason we will be a free country. You are the reason there will be free people around the world."
After the oath, the officers took the stage with their families to have their new rank insignia pinned to their shoulders.
Navy Ensign Natalie A. Occhipiniti seemed eager to start her new job as a flight officer.
"I just hope to go out there and join the ranks of everybody else, work hard and do what we have to do for this country," she said. "I'm excited and can't wait to get started."
Copyright 2018 The Lawrence Journal-World. All rights reserved. This material may not be published, broadcast, rewritten or redistributed. We strive to uphold our values for every story published.