Bill Self and his son, Tyler, stood at the bottom of Campanile Hill on Sunday, cheering not only seven former Kansas University basketball players and four team managers, but the entire student body on a bright, sunny graduation day 2005.
"Everybody was walking in the stadium, and I said, 'Tyler, you are 11 years old, but 11 years from now you'll be walking down hopefully the same hill,'" KU's second year coach said, relating the father/son moment.
"I don't think he quite grasped what I was saying. Then Wayne walked down, and when we were taking pictures said, 'Ten years from now, buddy, you'll be doing the same thing,'" Self added, referring to KU senior Wayne Simien's message to Tyler Self.
"I think maybe that had more impact on him. I think all these guys graduating sends a great message to youth that look up to these guys as role models. They did what they said they'd do and that's graduate."
Sunday was one big hugfest for members of the KU basketball program.
KU's recruiting Class of 2001 - Simien, Jeff Hawkins, Keith Langford, Michael Lee and Aaron Miles - walked in cap and gown together. Other former players to graduate included Bryant Nash, who last played in 2003-04, and Archie Marshall, a member of KU's 1988 national-title team. Four student managers - Steven Davis, Shannon O'Connor, Tegan Thornberry and Matt Wolfe - also received their coveted diplomas.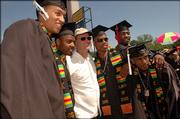 "I can't imagine there being a more beautiful setting for graduation or a cooler setting than we have," Self said. "It was a neat day for all students at the University of Kansas."
And a good day for KU hoops.
"I can't imagine many programs in America have five guys graduate the same day," said Self, who one year at Illinois also watched five Illini receive their diplomas.
Self was thrilled for the 40-year-old Marshall, who he worked with at KU in 1986.
"I had a chance to visit with Archie's mother and wife. They were so proud. His mother was all teary eyed and proud," Self said. "He said when he was here for Midnight Madness (two years ago) when we brought the '88 team back, he felt the fieldhouse and felt the campus again.
"He said it was very important to him to be able to tell everybody he was a graduate of the University of Kansas. He wanted to do it for himself and his family. He's so proud to be a Jayhawk. Here's a guy who would probably just now be completing an NBA career if not for injuries."
Modest Marshall: Self has been impressed with Marshall's attitude toward his achievement.
"Archie is such a neat guy," Self said. "I called Archie when I found out he was walking the hill. I said, 'Why don't you let me call the Journal-World? They'll want to run a big story.' He said, 'Coach, that's not my style.' He's pure class and didn't want to draw any attention to himself. I thought that was cool they heard about it and wrote it up. He's a good example for others."
Leavin' town quickly: Point guard Miles didn't take part in any graduation dinner parties. He scurried to the airport after the ceremony to make it to California in time for today's workout with the Golden State Warriors.
Giddens update: Self said injured KU player J.R. Giddens, who had surgery last week to repair a slashed artery in his right calf incurred in a fight outside a Lawrence bar, still will be able to attend the first session of summer school.
Most of Giddens' rehab will be in Lawrence, but some will be in Oklahoma City, when he's not in town.
Giddens' injury will require him to spend three to six weeks on crutches with no rehab going on at that time. The muscle in Giddens' calf will need that much time to heal with rehab to follow.
Depending how much time Giddens spends on crutches, he could be off the court anywhere from a month and a half to two and a half months. It's expected he'll definitely be able to play next season.
As far as possible disciplinary action against Giddens, Self said "out of respect for the process," he would continue to have no comment. He said if Giddens eventually is disciplined the discipline would be kept within the "basketball family."
Nice Hall: Self on Saturday's Booth Family Hall of Athletics groundbreaking ceremonies.
"It was a great day. I was pleasantly surprised at the amount of space it'll have," Self said. "It will be a great addition to Allen. With that kind of space, you will not run out of space to restrict paying honor to past teams. You'll be able to do a lot of stuff in there," he added, noting kiosks where fans would be able to watch videos of great players and teams that could be a stellar feature of the Hall.
Copyright 2018 The Lawrence Journal-World. All rights reserved. This material may not be published, broadcast, rewritten or redistributed. We strive to uphold our values for every story published.