It's not the Statue of Liberty beckoning for "huddled masses yearning to breathe free," but a billboard put up by the Greater Topeka Chamber of Commerce is aimed at Lawrence residents who may be on a tight budget.
"Work here? Live here," proclaims the sign that shows a map of Topeka.
The sign is visible on the Kansas Turnpike and U.S. Highway 40 near Lecompton, where each day thousands of Lawrence commuters drive past en route to Topeka for jobs in state government, Payless ShoeSource or a number of other companies.
"The theme is 'Topeka, more for your lifestyle,' " said Marsha Sheahan, vice president of public relations of the Greater Topeka Chamber of Commerce.
"We are encouraging people who work in Topeka to actually live here," Sheahan said.
And the major selling point to Lawrence residents is housing costs, she said.
"We are trying to get people thinking about the high quality of housing and the low cost in Topeka," she said.
The average price of a 2,200-square-foot, four-bedroom, two and one-half bath, two-car garage home in Lawrence is $226,800, compared with $141,850 in Topeka, said Sheahan, repeating statistics from Coldwell Banker research.
And just a cursory look at real estate ads shows homes in Topeka in the $60,000 range typically cost twice as much in Lawrence.
Sheahan said the chamber was trying to change attitudes about Topeka, which is often viewed by Lawrence residents as a place to work and then leave as quickly as possible.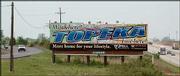 Topeka doesn't have a downtown atmosphere like Mass. Street, nor many of the cultural and sporting events offered by Kansas University.
But it does have museums, neighborhood schools and decent parks. Washburn University produces top-notch cultural events and sports, and Topeka is the state capital.
Bryon Schlusser, president of Coldwell Banker Griffith & Blair in Topeka, said Topeka had a small-town feel even though it has about 125,000 residents.
"If you have to drive more than 15 minutes to get somewhere in Topeka, you feel put out," Schlusser said.
As far as housing goes, "if you are looking for value, more than likely it's going to be found in Topeka," he said.
But Schlusser said Lawrence's quality of life appeal couldn't be denied, which creates a demand for housing, and high costs, he said.
"The benefits of home values are in the eye of the beholder," he said. "There is more demand in Lawrence than Topeka."
And, he said, issues of house values and commuting time are relative.
His company recently transplanted an executive from the East Coast to a Topeka firm, but the family wanted to live in Johnson County for the schools.
"We told him he would have an hour-and-20-minute commute, and he said he looked forward to that because it would be an hour less than what he was used to," he said.
Sheahan said she had no statistics on whether the billboard was working at luring Lawrence residents to Topeka.
Troy Findley, a former state representative from Lawrence, moved to Topeka a couple of years ago, but said it wasn't for the lower home prices.
Both he and his wife, Jennifer, work in Topeka; he as an assistant to Gov. Kathleen Sebelius and she with the Kansas Hospital Assn.
"It just seemed to make sense at this point in our lives to shorten our commute," Findley said.
Judy Billings, senior vice president for the Lawrence Chamber of Commerce and director of the Convention and Visitors Bureau, said she had no problem with Topeka chamber officials fishing in Lawrence's pond.
"We all do that all the time," Billings said.
But she said there had been no noticeable outflow of Lawrencians to Topeka.
"It's a conscious choice that people make that they will pay more to live here because of the kind of city that we have," she said.
However, she said, high housing costs in Lawrence were a concern.
"There is a delicate balance. You don't want to become a bedroom community or an elitist community," she said.
Copyright 2018 The Lawrence Journal-World. All rights reserved. This material may not be published, broadcast, rewritten or redistributed. We strive to uphold our values for every story published.