Brian Jensen could not have imagined a crazier feeling Friday afternoon.
With hundreds of fans lining Massachusetts Street, the Kansas University sophomore cyclist surged ahead of a pack of more than 100 riders during the last lap of the one-mile criterium in this weekend's National Collegiate Cycling Championships.
"My ears were just ringing, and I thought to myself probably 200 times on that last lap to just hang on and win it. It was really awesome," said Jensen, a former KU cross country runner.
Unfortunately for Jensen, a trio of Cal-Poly San Luis Obispo cyclists tracked him down. Cal-Poly's Ken Hanson emerged victorious after Jensen, who still held a slight lead halfway through the last lap, faded at the corner of 10th and Massachusetts streets.
Jensen led several times during the 120-minute race on the downtown course, but by the time he crossed the start/finish line at Ninth and Massachusetts streets he had fallen to 14th place.
"The only thing I could do to separate myself from the big pack was go all out with one lap to go," Jensen said.
"I did that, but on the other side of the course I was looking down at my speedometer and I was holding 30-31 (mph)," Jensen said. "I knew I would have to hold 33 to win the race."
Instead, Jensen was blindsided on both sides by cyclists including Hanson, who said he was scared to throw up his arms in victory until the last possible second.
"Everyone did their part perfectly, and it kind of just happened," said Hanson, who has been racing for just three years. "I wasn't too worried when I saw Jensen jump out to that big lead, because I knew that with my team's help I was still capable of catching him.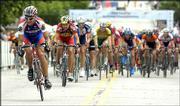 "I'd heard that whoever gets out of that last corner first would be good to go. It was just great timing and a great push by my teammates."
Stanford junior Amber Rais won the Division One women's race, which was hampered by rain, in a time of 1:07.15.
"I'm really surprised that I won it, especially in these kind of conditions," said Rais, who only started road racing during the second half of last season.
"When I took part in nationals last year, it was just my second race. But I really got motivated by the other riders and put in a lot of work in the offseason."
Todd Yezefski, from the University of Chicago, won the Division Two men's race, while Cumberland College's Stephanie Hannos took the D-II women's title.
Today, the three-day cycling spectacle will move to Perry Lake, where riders will participate on a 28.2-mile course capped by hills and gravel. The first race is scheduled to start at 9 a.m. with the D-I women, followed by D-II women at 9:15. The D-I men will begin at 12:30 p.m. with D-II following 15 minutes later.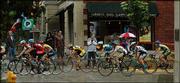 KU Cycling Club president Andy Phelps said even though Jensen couldn't win Friday's criterium, he should be considered a strong contender in the road race.
At Perry Lake9 a.m. -- Division One women (56.40 miles, 2 laps)9:15 a.m. -- Division Two women (56.40 miles, 2 laps)12:30 p.m. -- Division One men (84.60 miles, 2 laps)12:45 p.m. -- Division Two men (84.60 miles, 2 laps)
Still, Phelps said watching the hometown hero nearly become a national champion was very cool.
"I seriously had goosebumps on my arm that last lap," he said. "With him to be out in front and all the fans cheering him on was just an unbelievable moment.
"I thought this event would be a big deal, but that scene was even more incredible than I could have imagined."
Copyright 2018 The Lawrence Journal-World. All rights reserved. This material may not be published, broadcast, rewritten or redistributed. We strive to uphold our values for every story published.