Dogs like trees -- for numerous reasons.
Now the city's canines have another off-leash dog park devoted just to them, and this one has plenty of trees and sights to see along the Kansas River.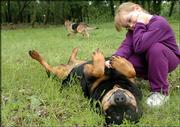 The city's Parks and Recreation Department on Friday opened the city's second off-leash dog park in the woodsy environment at Riverfront Park in North Lawrence, just west of the intersection of U.S. Highway 40 and North Second Street.
The first off-leash park is Mutt Run, which is in the wide-open spaces below the Clinton Lake Dam, and officials say it has as many as 500 regular users.
"Basically, we opened the first dog park in 2001 and just saw amazing growth in the usage of it," said Mark Hecker, the city's parks and maintenance superintendent. "We thought if that many people are interested in it, we need to find another location on the other side of town."
Nora Murphy, among a group of park users who call themselves the "Old Pups," said the new park would make dog walking more convenient for many city residents.
"Right now everyone in North Lawrence, East Lawrence, central Lawrence, we all have to drive 20 minutes to get to the Clinton Lake park," Murphy said. "That is a 40-minute commitment if they want to play with their dog. And most people I know want to do that every day."
Murphy said off-leash parks were needed because many people have small yards that don't give dogs a chance to roam. The city requires that dogs be kept on a leash elsewhere in Lawrence.
"It is just an old adage that a well-exercised dog is a well-behaved dog," Murphy said. "It is a truism."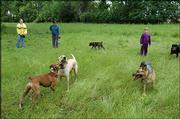 Much of the 30-acre dog park is right alongside the Kansas River. Murphy said she had received a letter from the Friends of the Kaw's Kansas Riverkeeper saying that it was generally fine for dogs to swim in the Kansas River.
Hecker said the city also was working on a new disc golf course at the Riverfront Park. The course likely will open in mid-June. It will be the city's second disc golf course.
"The existing one at Centennial Park is used like crazy," Hecker said.
Hecker said he hoped the two new attractions would promote better use of the approximately 900-acre park. He said the city has received reports of the area being improperly used for late-night parties and inappropriate camping activities.
"Riverfront Park is really a cool park," Hecker said. "This park has a lot of potential."
Copyright 2018 The Lawrence Journal-World. All rights reserved. This material may not be published, broadcast, rewritten or redistributed. We strive to uphold our values for every story published.