Los Angeles — "Everybody Loves Raymond" wasn't hip, wasn't cool and missed out on the magazine covers that usually fawn over flavor-of-the-season TV shows.
Instead, it settled for a nine-season run; consistently high ratings; a total of 12 Emmy Awards, and the rare virtue of leaving before, not after, it ran out of laughs.
CBS' family comedy finally is getting the attention it deserves, including those elusive cover stories and the manic network marketing push that befits the end of a hit show.
But what counts for creator Phil Rosenthal is what's symbolized by the photos on his office wall of Jackie Gleason of "The Honeymooners" and Sid Caesar and Imogene Coca of "Your Show of Shows" -- humor for the ages.
"We have something far more valuable in every way, something of lasting value, something you might watch with your grandkids," Rosenthal said during production of one of the final episodes.
Series star Ray Romano, a standup comedian turned actor, echoes the sentiment.
"This is my legacy. This is what I'll be remembered for," he told The Associated Press.
The 210th and final episode airs Monday. It's preceded by a one-hour "Raymond" retrospective.
The show's departure, on the heels of "Friends," "Frasier" and "Sex and the City," increases the sitcom shortfall. This year, "Everybody Loves Raymond" is the only top 10 comedy and just one other, "Two and a Half Men," also on CBS, in the top 20.
The network is saying a reluctant farewell: It was Rosenthal and Romano's call to end the series and with an abbreviated 16-episode season, which they said reflected how many stories were left to tell.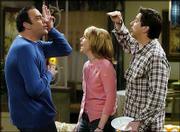 Copyright 2018 The Associated Press. All rights reserved. This material may not be published, broadcast, rewritten or redistributed. We strive to uphold our values for every story published.