First, it was former Kansas University football coach Glen Mason.
Now, it's Anthony Portela's turn for northern exposure.
At the Lawrence Aquahawks award banquet Tuesday night at the Douglas County Fairgrounds, Free State High swimming standout Anthony Portela signed a national letter of intent with the University of Minnesota.
Portela's club and high-school teammate Chris Sellon also declared to swim for Denison University next fall in Granville, Ohio.
"Minnesota was everything I wanted," said Portela, who called Minneapolis the "the Midwest version of New York. The best thing about it was I can see myself living there in and out of swimming."
Portela's decision came down to two Big Ten schools: Minnesota and Indiana.
He first took a visit in February to Indiana -- home of former Aquahawks and Firebirds teammate Alex Brunfeldt. Then, in April, Portela visited the Golden Gophers and Tyler Schmidt, another former Aquahawks teammate.
Schmidt is a former Topeka High standout who just completed his first season with Minnesota as a freestyle swimmer.
"Overall, I knew two people from both schools, so I tried to take them out of the picture. I tried not to let that affect my decision," Portela said.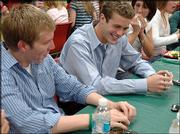 "Both, of course, tried to sell their schools to me," Portela said. "But on the same hand as a friend they wanted what was in my best interest."
Minnesota played host to the 2005 NCAA men's swimming and diving championships in a pool that Portela said was one of the fastest in the nation. The Gophers also boast a spacious weight room shared with the 2002 and 2003 national champions of college hockey.
Throw in the fact Minnesota is a perennial top-ten ranked school, and it was all too good for Portela to pass up.
Portela plans to race in relays and the 200-yard individual medley and 100-yard butterfly. He won state championships in both events at Free State.
"I'll be training with the best," Portela said. "I'm bound to get better."
Sellon said he chose to attend Denison on Friday over Grinnell College in Iowa and Trinity University in San Antonio.
"I really like the coach and the team," Sellon said. "I visited there two weeks ago and had a lot of fun. I felt it was the right fit."
Aquahawks coach Mike Soderling said he started working with Sellon as a 10-year-old and Portela as a 12-year-old. He said as their pool time had increased, so had their devotion to the sport -- especially when they helped Free State win the state championship in 2004.
"It's been great watching them progress," Soderling said. "They've always had talent, but they've really combined that now with work. It's been paying off for them."
Other honorees at the banquet included Free State's Ashley Jackson, who earlier this year signed with Louisville, and LHS senior Melissa Little, who will swim for Northern Iowa.
Copyright 2018 The Lawrence Journal-World. All rights reserved. This material may not be published, broadcast, rewritten or redistributed. We strive to uphold our values for every story published.