SOUTH BEND, IND. — Mario Chalmers guarantees Kansas University basketball fans will see a lot more of what he showed at Wednesday night's McDonald's All-American game.
After all, his biggest moment of the night came on his bread-and-butter play.
It started with a repeat performance of Monday night, when Chalmers, a KU signee, claimed the crown in the three-point competition.
Wednesday, he hit one at the top of the key after coming off a screen with 15:46 left, and then stole the inbounds pass, and within seconds drained one in the corner. As the crowd got on its feet, Chalmers showed his enthusiasm with a chest-pounding and screaming display.
"That's my patented move right there off the steal. I always run back for the three," Chalmers said with a grin. "Eric (Devendorf) had his back to me, Brandon (Costner) threw kind of a lazy pass, and I just knew I could get it because of my long arms. I got my hand on it and just snatched it."
The second of his three-point bombs was the capper on a 16-point spurt Chalmers personally executed in the first 4:24 of the second half, though his West squad fell to the East, 115-110.
The Anchorage, Alaska, native struggled in the first half, hitting just one of his six shot attempts, though many of his misses went half-way down the hole before popping out. In the second half, his offensive outburst partly was the result of the excitement coming from himself and fellow Jayhawks-to-be Julian Wright and Micah Downs being on the floor simultaneously for the first time on national television.
"Because in the beginning of the second half when you had me, Micah and Julian out, we just brought a whole bunch of energy," Chalmers said. "That's what they have to look forward to next year. We were waiting for that the whole night."
Despite registering a team-high 20 points, Chalmers assured after the game that he had no thoughts of going straight to the NBA, and a late-summer move to Lawrence still is booked. Chalmers also had a game-high five steals and a team-high five assists.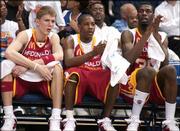 Julian Wright joined the party as well Wednesday, showing off his array of abilities.
Most of Wright's 14 points came on emphatic dunks, and he also added a nice face-up eight-foot jumper in the second half over 6-foot-10 Duke recruit and McDonald's MVP Josh McRoberts.
Wright also showed his defensive dominance, and when he had to in the second half, he became more assertive on the offensive end, taking the ball to the rack twice late as the West team tied the score late at 106, closing a deficit that once was as large as 27 points. Defensively, he slowed Gerald Green, who scored a game-high 24 points mostly before Wright was on him.
His most impressive slam of the evening was on a lob from Oklahoma State-bound Byron Eaton that he threw down with his left hand on the left side of the rim.
"Man, Julian Wright's probably one of my favorite players at the McDonald's All-American game," said Green, another Cowboy commit. "He plays hard, he never gives up, and I think he's going to be a very hard matchup when I have to play him next year. I'm not really looking forward to it, but I'm going to have to play him."
Wright insists he did just what he always does. He describes himself as a team-oriented player, and when he needs to be aggressive, he is.
"That's me, basically -- that sums me up," Wright said. "I didn't get down. When Gerald hit some shots, that got us down, and I was responsible for that, so I was going to try and be responsible for a comeback."
In the McDonald's game, it's not typical to see players as competitive as Wright was. He constantly was trying to pump up his teammates, rarely was looking for his own shot and impressed nonetheless. His four assists were second to Chalmers for the team lead.
Downs, meanwhile, played just 11 minutes, mostly in the first half.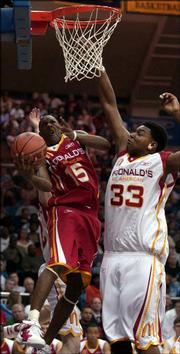 When he was in the game, Downs showed his outside range, nailing one three-pointer that was six feet beyond the arc.
The majority of his action in the second half came from the bench. Every time coach Al Rhodes put someone else in the game and passed Downs up, Downs put his hands in the air in frustration. His body language showed that attitude in the second half, as he shook his head in disbelief a few times. He sat for about the final 15 minutes of the contest.
"I was frustrated," Downs said. "I don't know why I wasn't getting minutes. When I was out there, I was hitting threes and getting assists and stuff. I was just like, 'Why aren't I getting in there, you know? I'm just as good as anybody here.'
"It definitely soured the game for me. When I was in there, I was having fun, but this kind of ruins the whole thing."
Though Downs seemed unhappy on the bench, his teammates didn't want to give him any more reasons to be angry.
"It's not the team's fault, it's not his fault, and you can't say it's the coach's fault," said Martell Webster, another Seattle-area native. "The coaches have a plan, and you've got to follow the plan. If you're frustrated, you've got to learn to move it on, man. I know he's standing right there across the hall right now looking at me, but, you know, it's nobody's fault. The best thing right now is to probably just give him his space. Hopefully, he'll cheer up, because today's really not the day to be frustrated."
Downs' parents, who were in attendance and waited for their son afterward, hoped Micah would have a better experience April 16, when he'll take part in the Jordan Capital Classic in New York's Madison Square Garden.
"I was proud of Micah for the time he was out there, but my heart is aching right now, and you can print that, because he didn't get to play but 10 minutes, and I don't know why," dad Steve Downs said. "I'm really proud of how far he's come, and I thank God. My heart hurts for Micah, and to see my wife crying, you know, this is supposed to be a real joyous moment, which up to this point it was."
Copyright 2018 The Lawrence Journal-World. All rights reserved. This material may not be published, broadcast, rewritten or redistributed. We strive to uphold our values for every story published.