Free State High pitcher Jake Hoover made up for Wednesday night's chilly conditions by throwing absolute fire.
The Firebird senior struck out seven of the nine Olathe Northwest batters he faced after relieving starter Max Ellenbecker in the fifth inning, helping Free State improve to 2-0 with a 6-3 victory over the Ravens at the Free State High field.
"He was simply electrifying," FSHS coach Mike Hill said of Hoover, who got the only two Ravens who made contact off him to ground out.
"He's pitched for us for four years, but I don't think I've ever seen him pitch better. There haven't been many, if any, performances as good as that one since I've been here."
Hoover downplayed his dominance.
"It was just one of those days where every ball I threw was doing exactly what I wanted it to," said Hoover, who picked up the save.
"I don't know if it was the best performance of my career, because I had a pretty good victory over Lawrence High a couple of years ago," Hoover said. "But it was definitely a fun afternoon."
Well, maybe not completely for the Firebirds, who manufactured just eight hits and took advantage of a timely Raven error in the second that allowed two unearned Free State runs. The Firebirds plated two more in the sixth to seal the victory.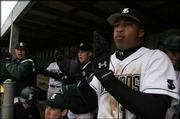 Hill, however, said he couldn't compare Wednesday's close victory to last season's run-rule win against Northwest.
"That's a really good ball club. I think people will see as the year goes on that they're much improved and are going to surprise some squads," Hill said. "They obviously were going through growing pains in much the same way we were a few years back, but that's not the same team as last year."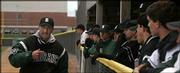 Ellenbecker had three strikeouts when he left with Free State ahead, 4-3. Hill said he hoped Hoover's helpful pitching would continue.
"He was really bringing it tonight, and hopefully that will just be a sign of things to come for him this year," he said. "He's got a couple of really good pitches, and when they're working like they were tonight, it'll be hard for anyone to hit him."
Copyright 2018 The Lawrence Journal-World. All rights reserved. This material may not be published, broadcast, rewritten or redistributed. We strive to uphold our values for every story published.