The chance for a Lawrence couple to have the ultimate wedding rests in the hands of the nation.
Aaron Landis and Lynette Stand are finalists in the Great American Country's Ultimate Country Wedding competition. The couple must receive the most online votes to win.
"Votes count, and it would be nice if we could win," Landis said.
The couple learned this week they are one of four couples in the running for the wedding. GAC, a country music television station, announced the competition earlier this year.
The winning couple get an all-expenses-paid wedding in Nashville, Tenn., over Labor Day weekend. The wedding is complete with invitations, a wedding dress, wedding planner, tuxedo rental and honeymoon.
"The whole thing sounds great," Landis said. "We're really excited about the honeymoon because we weren't going to be able to have one because we couldn't afford it. So the chance to have that and all these other things would be incredible."
Landis and Stand, both 28, have known each other seven years and been engaged since 2002. They have been trying to save money for their wedding since their engagement, Landis said. But the two decided to apply for the Ultimate Country Wedding after a friend suggested it. Being country music fans, Landis said the wedding would be a fit.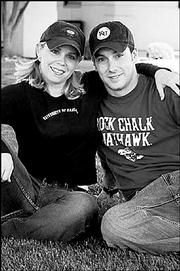 More than 200 people entered the contest, GAC promotions manager Laura Cassanova said.
"This is the first time we've held this contest," she said.
The idea is based on a segment done by NBC's "Today Show." GAC staff members thought it would be a good idea for the station by putting a country spin on the wedding, Cassanova said.
Finalists were decided by staff members. They mainly looked at the stories provided by the applicants, Cassanova said.
"We're really encouraging people to get on the Web site and vote," she said.
Voting on the four couples began Wednesday afternoon and ends at 4 p.m.April 13. Go online to www.gactv.com and look for the "Ultimate Country Wedding" logo to vote. People cast one vote a day throughout the next two weeks.
"Winning would be great," Landis said. "But even if we don't, it's fine. We're still going to get married."
Copyright 2018 The Lawrence Journal-World. All rights reserved. This material may not be published, broadcast, rewritten or redistributed. We strive to uphold our values for every story published.