TV debate planned on gay marriage ban
Kansas public television viewers can learn about the upcoming gay marriage amendment vote and participate in pre-election debate this weekend.
A debate on the issue will be held between the Rev. Terry Fox of Wichita's Immanuel Baptist Church and Lawrence attorney Bruce Ney, chairman of Kansans for Fairness. The debate will air on KTWU (Topeka channel 11 on Sunflower Broadband cable television) at 12:30 p.m. Sunday.
Also, at 5 p.m. Sunday, viewers can make calls and send e-mails with questions for a panel of four Kansas legislators. On the panel will be Sen. Pete Brundgardt, R-Salina, and Rep. Josh Svaty, D-Ellsworth, who both voted in the Legislature against the amendment; and Sen. Karin Brownlee, R-Olathe and Rep. Janice Pauls, D-Hutchinson, who voted in favor of the amendment.
To call in a question, dial 877-491-5787. E-mail questions to ASK@kpts.org.
Highway patrol
Gardner resident killed in wreck
Leavenworth-- A Gardner man was killed Wednesday in a two-vehicle accident northwest of Leavenworth.
Brian K. Willich, 32, was pronounced dead at the scene of the accident on U.S. Highway 73 near 195th Street, the Kansas Highway Patrol reported.
Willich was the driver of a 1989 Chevrolet Blazer that crashed into the back of a 1986 Mack truck that was attempting to turn off Highway 73 onto a rock quarry driveway, the report said. A passenger in Willich's Blazer was injured. Glen E. Nelson III, 33, was taken by helicopter to University of Kansas Hospital in Kansas City, Kan. Hospital officials said they couldn't confirm whether Nelson was a patient there.
The driver of the Mack truck, Rex N. Zabel, 47, Easton, was not injured, the Highway Patrol said.
KDOT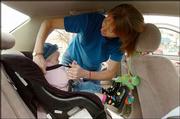 Traffic safety topic of community forum
Traffic crashes are the No. 1 killer of children, teenagers and adults under 34 in Kansas. This statistic brought state transportation, public safety and health officials together Wednesday to the community forum "Stop the Epidemic."
"Kansas has a serious problem with fatalities and injuries," said Terry Heidner, director of planning and development at the Kansas Department of Transportation. "Our fatality rate is 20 percent higher than the national average."
Transportation and health officials stress the importance of wearing a seat belt at all times and using child car seats.

Dozens of people came to hear Heidner and other state officials. The forum was at the Lawrence Visitors Center, 402 N. Second St
Copyright 2018 The Lawrence Journal-World. All rights reserved. This material may not be published, broadcast, rewritten or redistributed. We strive to uphold our values for every story published.