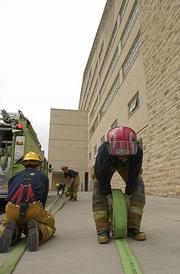 An overheated air handling system motor caused the evacuation of Allen Fieldhouse this afternoon.
Mark Bradford, deputy chief of Douglas County Fire & Medical, said smoke from the overheated motor, which was on the southwest corner of the third floor of the fieldhouse, was the reason for the evacuation.
The incident occurred around 1:30 p.m. Bradford said there was no damage from the smoke.
Five emergency vehicles responded to the incident. About 30 people watched from outside the building as handled the situation.
The alarm did not interrupt the clean-up work on the building's exterior.
---
For more on this story, see the 6News report at 6 p.m. and 10 p.m. on Sunflower Broadband's Channel 6 and pick up a copy of Friday's Journal-World.
Copyright 2018 The Lawrence Journal-World. All rights reserved. This material may not be published, broadcast, rewritten or redistributed. We strive to uphold our values for every story published.