Topeka — Six people were injured Friday, five of them children, when a Johnson County school bus overturned on the Kansas Turnpike in Topeka.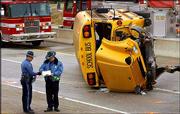 The bus from Midland Adventist Academy in Shawnee was traveling west at about 8:30 a.m. when it veered right, then left, crashing through the median and overturning on the turnpike's eastbound side, said Lisa Callahan, a spokeswoman for the Kansas Turnpike Authority.
Twenty-five students were aboard the bus, Callahan said. The driver and five children were brought to a hospital, but they were not seriously injured, she said.
No names of the victims were released.
The bus did not hit any other vehicles, but eastbound lanes on the turnpike were closed until about 10 a.m., Callahan said.
It was not immediately known where the group was headed.
Copyright 2018 The Associated Press. All rights reserved. This material may not be published, broadcast, rewritten or redistributed. We strive to uphold our values for every story published.