Bishkek, Kyrgyzstan — President Askar Akayev's government collapsed Thursday after opposition protesters took over the presidential compound and government offices, throwing computers and air conditioners out of windows in a frenzy of anger over corruption and a disputed election.
The popular uprising in this impoverished Central Asian nation of 5 million forced Akayev to flee, was breathtaking in its speed and resulted in only a few dozen injured. The government was the third in a former Soviet republic -- after Georgia and Ukraine -- to be brought down by people power during the past year and a half.
One immediate challenge for the new rulers was rampant looting in government buildings and shops in the capital, Bishkek.
Whooping and whistling protesters took over the Soviet-era presidential headquarters, and groups of them took turns sitting in Akayev's chair. Outside, people tore up portraits of Akayev and stomped on them.
"It's not the opposition that has seized power, it's the people who have taken power. The people. They have been fighting for so long against corruption, against that (Akayev) family," said opposition advocate Ulan Shambetov, one of the protesters who sat in the president's chair.
The upper house of the parliament that held power before a disputed election met Thursday night and elected a former opposition lawmaker, Ishenbai Kadyrbekov, as interim president until a new presidential vote, perhaps as early as May or June.
Two prominent opposition leaders, Kurmanbek Bakiyev and Felix Kulov, were named to top posts in an interim government, lawmakers said. The lower house of parliament early today appointed Bakiyev acting prime minister, and the upper house tapped Kulov, who was released from prison Thursday, to take charge of all law enforcement agencies.
The whereabouts of the 60-year-old Akayev -- who had led Kyrgyzstan since 1990, before it gained independence in the Soviet collapse -- were not known. U.S. officials said they could not confirm reports by the opposition and Russian news agencies that he had left the country.
The takeover of government buildings and state television in Bishkek followed similar seizures by opposition advocates in the impoverished southern region, including the nation's second-largest city, Osh. Those protests began before the first round of parliamentary elections Feb. 27 and swelled after March 13 run-offs that the opposition said were seriously flawed.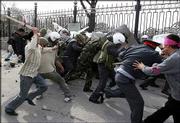 Politics in Kyrgyzstan depends as much on clan ties as on ideology, and the fractious opposition has unified around calls for more democracy, an end to poverty and corruption, and a desire to oust Akayev.
There was no sign the new leadership would change policy toward the West or Russia. Unlike the revolutions in Georgia and Ukraine, foreign policy has not been an issue.
Both the United States and Russia have military bases near Bishkek. About 1,000 U.S. troops are stationed at Manas air base outside the capital. Defense Secretary Donald Rumsfeld said Thursday he didn't think they would be adversely affected by the turmoil.
Neighboring regimes in Central Asia studiously ignored Thursday's uprising but their opposition parties were jubilant, hoping the seeds of democratic change had been sown in the region.
After the "Rose Revolution" in Georgia in 2003 and the "Orange Revolution" in Ukraine last year, authorities have been increasingly nervous about their grip on power.
Copyright 2018 The Associated Press. All rights reserved. This material may not be published, broadcast, rewritten or redistributed. We strive to uphold our values for every story published.