Milwaukee — Before last weekend, Wisconsin-Milwaukee best was known for being the school where the late Israeli prime minister Golda Meir went.
For "Happy Days" aficionados, it's where Richie Cunningham, Potsie Weber and Ralph Malph all hit the books when they weren't hanging out at Arnold's Drive-in.
Now, the No. 12 Panthers are the lowest seed remaining in the NCAA Tournament, holding the banner for all the mid-majors who dream of knocking off the big basketball schools like Alabama and Boston College, both of which fell to Bruce Pearl's pressing Panthers, champions of the Horizon League, last week in Cleveland.
UWM is a commuter school of 25,000 that has gone from NAIA Division II to NCAA Division One in a little more than a decade.
When athletic director Bud Haidet was hired in 1988, he counted 65 fans at his first basketball game, and many of them mistakenly handed back the pompoms he gave them on their way into the arena.
Now, UWM is taking some of the spotlight off Marquette, just 6 miles away, which went to the Final Four two years ago, and the University of Wisconsin in Madison, where the Badgers, under former Panthers coach Bo Ryan, are also in the Round of 16.
There wasn't a lot of buzz on campus Monday, however, because spring break just started.
"We only have one dormitory but I still feel the support, I've gotten lots of e-mails," guard Ed McCants said.
About 50 people, mostly friends and family, greeted the Panthers at Mitchell International Airport upon their triumphant return Sunday.
On Monday, players entering the Klotsche Center to practice weren't met by a throng of fans but by two men seeking autographs on four deflated basketballs, items that might very well end up on eBay.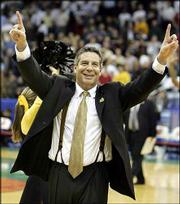 "It's quieter than usual today except for you guys," forward Adrian Tigert said of the 50 or so reporters who converged on the campus.
Some students did gather at the campus bookstore to buy commemorative T-shirts, among them Nicole Dzomba of Milwaukee.
"It's real exciting, it's very cool," she said as she picked out a yellow T-shirt. "I think everyone's happy but nervous, too."
Other students raced to the ticket office to put their names in for the 1,250 tickets made available to the school for the Panthers' next game, against top-ranked Illinois on Thursday in the Chicago Regional.
Pearl hoped the biggest crowd of reporters to gather at one of his practices would ask about the David vs. Goliath story line. He wanted to rave about his stars, McCants and Joah Tucker. He preferred to talk about how no No. 12 seed has ever beaten a No. 1 seed.
"We're trying to do something that's never been done. We're trying to make history," he said.
He even pitched a story about Illinois coach and Milwaukee native Bruce Weber playing his alma mater, where he unsuccessfully tried out for the UWM basketball team.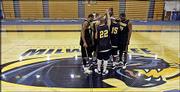 But what just about everyone wanted to know was Pearl's latest thoughts on the Deon Thomas scandal at Illinois 16 years ago.
Pearl was an assistant at Iowa when he secretly taped a conversation with Thomas during which the player appeared to confirm that Jimmy Collins, then an assistant at Illinois, had offered him $80,000 and an SUV to sign with the Illini.
Thomas has always denied the allegations and the school was cleared of them, but the 16-month investigation found several other infractions and Illinois was barred from postseason play by the NCAA in 1991.
ESPN's Dick Vitale criticized Pearl for committing "career suicide."
To this day, Collins, now the coach at Illinois-Chicago, refuses to shake Pearl's hand.
But Pearl said he would do what he did again.
"Regrettably, I would because of principle and I'm a bit of an idealist," Pearl said. "But a lot of people got hurt in that situation and it's unfortunate. ... I just knew what was happening and the folks at the University of Iowa wanted me to document it."
Pearl said his only regret is "if it's taking away from UWM and these players."
This will be the first time Pearl has faced Illinois as a head coach, but he doesn't think that will put an end to all the talk about his role in the scandal.
"It's never going to go away," he said.
Weber is aware of the acrimony many Illini fans and supporters still feel toward Pearl.
"I've heard some things I can't even say in the press conference," Illinois coach Bruce Weber said Monday. "I understand it and I'm not downplaying it. But at the same time, we need to beat them to advance. That's the most important thing."
Pearl said being a whistleblower hasn't affected his ability to recruit in Chicago, however, and "we're still winning basketball games. Again, it's just not something new. Can you find one thing that's been reported new about this?"
At that point, Pearl was shown a copy of Monday's Chicago Tribune in which Thomas, who is now 34 and plays pro basketball in Israel, said Pearl was evil and called him a snake.
"That's not new," Pearl said. "He had (a similar) reaction 16 years ago, it's not new. I read it and I'm not going to respond to it, OK?"
Pearl does know that he'll get plenty of boos from Illini fans and he said he doesn't fault them for that.
"I'm a good man and I'm a good father and I'm a good person," Pearl said. "But I was involved in something that did them harm, so I understand if they don't feel like Bruce Pearl is their favorite coach in the country."
Copyright 2013 The Associated Press. All rights reserved. This material may not be published, broadcast, rewritten or redistributed. We strive to uphold our values for every story published.