Services for Emery Lee Hicks, 57, Lawrence, will be at 2 p.m. Sunday at First Baptist Church in Nowata, Okla. Burial will follow.
A memorial service in Lawrence will be at 3:30 p.m. April 15 at First Christian Church, followed by a reception.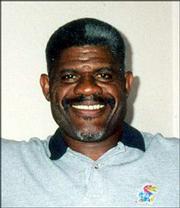 Mr. Hicks died Thursday, March 17, 2005, in Oklahoma City from non-Hodgkin's lymphoma.
He was born Aug. 10, 1947, in Bartlesville, Okla.
He grew up in Nowata in the home of John and Loretta Jenkins. As a high school All-American, he was recruited to play football at Kansas University. He was an all-Big Eight Conference linebacker in 1967 and 1969 and a member of KU's 1968 Orange Bowl team.
Mr. Hicks was drafted to play his rookie year with the Oakland Raiders. He played five years in the Canadian Football League and World Football League. He also had a career working in the Oklahoma oil fields. After he retired, he moved back to Lawrence.
The family suggests memorials to the KU football program, sent in care of the KU Endowment Association, P.O. Box 928, Lawrence 66044.
Condolences may be sent in care of Benjamin Funeral Services, 114 W. Cherokee Ave., Nowata OK 74048.
Warren-McElwain Mortuary is in charge of local arrangements.
Copyright 2018 The Lawrence Journal-World. All rights reserved. This material may not be published, broadcast, rewritten or redistributed. We strive to uphold our values for every story published.