Cleveland — Bruce Pearl's eyes welled up and his throat tightened the moment he heard Boston College's fight song. Nothing makes him cry quicker than "For Boston."
But a few hours later, Wisconsin-Milwaukee's coach, who once stuffed himself inside the BC eagle's mascot suit for a game, clapped his hands to another sentimental tune -- one without a title.
"It's just called the UWM fight song," said a Milwaukee band member, showing the sheet music.
On Saturday, they were singing it from Madison to Menomonee Falls.
Joah Tucker scored 23 points, Ed McCants had 18 and Adrian Tigert 16 as the 12th-seeded Panthers sprung their second NCAA Tournament surprise in three days, an 83-75 victory over Boston College in the second round Saturday.
Given little chance in the opening round against Alabama from the SEC or against the Big East's regular-season champions, Milwaukee (26-5) gave the nation's mid-major programs another moment to savor this March.
"We're going to the Sweet 16," Tucker said after the Panthers pranced around the floor. "We've got a name to put on this win."
The Panthers did it the way they know best: with a relentless, full-court press that confounded the Eagles (25-5), forcing them into 22 turnovers -- the most crucial one a pass that was thrown away with 1:21 remaining and BC down, 76-75.
"I thought we would handle it better," Eagles coach Al Skinner said. "They attacked us, stayed aggressive and didn't stop."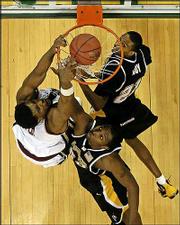 The Panthers, who have won 10 straight and 19 of 20, weren't intimidated by early trash talk from Boston College and overcame foul trouble in the second half to advance to next week's round of 16.
Milwaukee will play Illinois on Thursday in the Chicago Regional in Rosemont, Ill. The Panthers are the fifth No. 12 seed to advance to the final 16 since 1989 and the first since Butler, one of their the Horizon League brethren, in 2003.
They could have company from other double-digit seeds in the round of 16 if Bucknell, Vermont or North Carolina State can win today.
But for now, the Panthers, who outscored Boston College 9-0 in the final 1:32, have the tourney's underdog tag all to themselves.
"It was an upset," BC guard Jared Dudley said. "We were the higher seed and felt we had an advantage. But obviously, they wanted it more."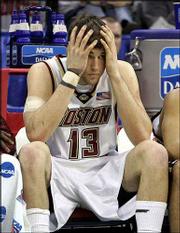 After the final seconds ticked off, Pearl, a BC grad and assistant at Chestnut Hill who landed a gig as eagle-for-the day in a 1981 tournament game, swung his 10-year-old daughter, Leah, around at midcourt.
Nearby, the Panthers, who by game's end had won over 90 percent of the Wolstein Center crowd with their inspired play, high-fived and hugged after trumping the win over Alabama with an even bigger one.
Now they'll have a chance to knock off the Fighting Illini -- a No. 1 seed and the nation's consensus No. 1 team.
"We have at least 24 hours to celebrate," said McCants, the Horizon's Player of the Year. "We understand we still have games to be played. There won't be any ridiculous amount of celebrating. It'll be back to business when we get back to Milwaukee."
It was another emotional moment for Pearl, who will have to deal with more baggage from his past next week.
While he was an assistant coach at Iowa, Pearl had a hand in turning in Illinois' program for NCAA violations in 1989.
"I stand by what happened," Pearl said. "Hopefully, it won't take the focus away from this team."
Illinois 71, Nevada 59
Indianapolis -- James Augustine scored a career-high 23 points, and Jack Ingram added 12 in the top-seeded Illini's victory. Augustine also grabbed 10 rebounds, blocked four shots and had two steals.
Illinois' famed guard trio of Deron Williams, Dee Brown and Luther Head combined for 31 points, but most came late in the game as the big guys took center stage. Williams scored five points on free throws down the stretch.
The Illini (34-1) reached the regional semifinals for the second straight season and fourth time in the last five seasons.
Kevinn Pinkney led the Wolf Pack (25-7) with 22 points and 11 rebounds. Mo Charlo added 12.
Arizona 85, UAB 63
Boise, Idaho -- Salim Stoudamire made five three-pointers and had 28 points, and Arizona never buckled under Alabama-Birmingham's constant pressure defense.
Arizona (29-6) struggled with UAB's frenetic, trapping defense in the first half, but had just four turnovers in the second to reach the round of 16 for the 12th time. The Wildcats, the 1997 national champions, advanced to Rosemont, Ill., next weekend and will face either Oklahoma State or Southern Illinois, which play today in Oklahoma City.
Arizona shot 52 percent from the field and made 18-of-23 from the free-throw line, including 12-of-15 in the second half when UAB picked up the pressure.
Copyright 2018 The Associated Press. All rights reserved. This material may not be published, broadcast, rewritten or redistributed. We strive to uphold our values for every story published.