The sun did, in fact, rise on Saturday, but it didn't shine as brightly for the Kansas University basketball nation.
Still stunned by the Jayhawks' first-round NCAA tournament loss to Bucknell on Friday night, fans and players spent Saturday scooping up their shattered egos and trying to move on.
"Everybody's bummed," coach Bill Self said Saturday morning, as he and the team boarded a bus for Will Rogers World Airport in Oklahoma City. "I understand there's disappointed people."
That is for certain. But four players -- seniors Michael Lee, Wayne Simien, Keith Langford and Aaron Miles -- are probably more disappointed than anyone, said former KU player Donnie Von Moore.
"It really affects the seniors more than the underclassmen, because that's really it for you and your college career," Von Moore said. "You're looking to the future, and then it's over in a heartbeat and you don't know what to think. You never get over it."
And Von Moore, who currently resides in Chicago, should know. He was a senior on the basketball team in 1978, the last time KU was knocked out of the tournament in the first round. That team lost to UCLA, 83-76.
If the current crop of KU seniors has experiences similar to Von Moore's in the wake of a first round defeat, the next few weeks are sure to be difficult.
"(I felt) about as low as I guess you could get. I didn't even come back to school for about three weeks," he said.
In Lawrence, fans seemed to absorb the loss with silent incredulity.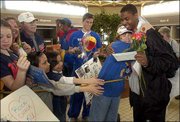 "It was unusually quiet," Lawrence Police Sgt. Dave Hubbel said of the city after the loss late Friday night. "It was like everybody just hung their heads and went home."
On Saturday morning, though still a sore spot, the loss was an unavoidable topic of discussion.
"It's just disappointment more than anything else," said Jon Amyx, owner of Downtown Barbershop, 824 Mass. "A lot of people had planned their weekend around the tournament. One guy even said he was ready for the Royals' home opener. That's really bad."
Though the sour taste of defeat lingered on throughout the day, many fans came to terms with the loss and set their sights on next season.
Don Bauer, a KU fan from Iola who was in Oklahoma City for the game, said the Jayhawk nation would recover.
"Everybody's going to be fine," he said. "The sun came up from the east this morning."
-- Staff writer Mike Belt contributed to this report. Staff writer Terry Rombeck contributed to this report from Oklahoma City.
Copyright 2018 The Lawrence Journal-World. All rights reserved. This material may not be published, broadcast, rewritten or redistributed. We strive to uphold our values for every story published.