Soul food is popular once again in Lawrence.
So popular that during Saturday's annual soul food dinner sponsored by the Lawrence chapter of the NAACP, food supplies had to be replenished long before the five-hour event came to an end.
"This is the first time I've been here and the food is really great," said Lawrence resident Lori Carnahan, as she ate a plate of brisket, green beans, sweet potatoes and cherry cobbler.
Food servers were constantly busy.
"I've been serving since 11 (a.m.) and it's just been a steady line," said Cynthia Colbert, after she finally got a chance, herself, to sit down and eat about 1 p.m.
At least 350 people attended the dinner, according to Sonja Johnson, chapter president. It was held in the large multipurpose room at First Baptist Church, 1330 Kasold Drive. Last year's dinner drew a little more than 200 people.
Soul food is food that was popular among southern blacks, dating back to before the Civil War era and which continues to be popular among all races today. Among the items on Saturday's menu were fried chicken, sweet potatoes, macaroni and cheese, cornbread, red beans and rice, brisket, green beans, sweet tea and coffee. Various businesses donated the food.
The annual soul food dinner was a local NAACP event for a number of years but was discontinued a few years ago because interest in the chapter had waned. Last year, however, saw a rebirth in the chapter and a resurgence of NAACP-sponsored events.
Lawrence resident Mary McLees wanted to see what the dinner was like and talked a friend, Alice Eisele, also of Lawrence, into accompanying her. Both said they could have gone back for multiple plate refills but thought better of it.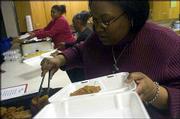 "I didn't let them overdo it," Eisele said, of the people who filled her plate.
McLees said she also attended the dinner because she was thinking about joining or becoming involved in some capacity with the NAACP.
"I always wanted to find out about the organization and see if I could do something to help it," McLees said.
The dinner, which cost $7 a person, is a benefit for the local NAACP. The money will be used to pay for college scholarships for high school seniors, Johnson said. Sponsors had not yet tallied how much this year's dinner raised.
Copyright 2018 The Lawrence Journal-World. All rights reserved. This material may not be published, broadcast, rewritten or redistributed. We strive to uphold our values for every story published.