Cleveland — Former local prep sensation Mike Gansey spent his summer shooting baskets on Cleveland State's cozy court, picturing himself making a big shot in an NCAA Tournament game.
Remarkably, he got the chance on the very same court -- and made the shot. Then another, and another.
Shooting at those familiar baskets, the junior guard scored a career-high 29 points -- 19 in the two overtimes -- and the Mountaineers sent No. 2 seed Wake Forest to another stunning second-round loss, 111-105, Saturday night.
West Virginia (23-10) will play Texas Tech next in the Albuquerque Regional, its deepest tournament run since it also made the round of 16 in 1998. The Mountaineers have beaten seven top-25 teams this season, a school record.
The crowd at Cleveland State rooted Wisconsin-Milwaukee to an upset of Boston College in the first game, then reveled as Wake Forest (27-6) became the first ACC team knocked out of the tournament.
"This is just a dream come true," said Gansey, who went to a suburban high school and worked out this summer in Wolstein Center with his brother, Steve, a guard at Cleveland State. "It's an unbelievable feeling."
For Wake Forest as well. After one of its most promising seasons ended with another overtime loss -- the Demon Deacons were 0-3 in OT this season -- the players couldn't comprehend what had just happened.
"It was what? Three OTs? Two OTs? It was just a long game," said point guard Chris Paul, who fouled out with 3:24 left in the second overtime. "We got a little fatigued at the end, and Gansey kept making play after play after play."
High expectations accompanied the Demon Deacons, who also lost in the second round as a No. 2 seed in 2003. They returned every scholarship player from last season, were ranked No. 1 in the country for two weeks and set a school record for wins in the NCAA opener.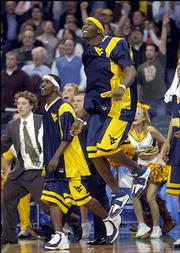 The burden appeared to weigh on them in their 70-54 victory over Chattanooga on Thursday. Several players conceded they felt some opening-game jitters.
This time, they couldn't hold onto a 13-point halftime lead or hold off a team that has made its mark by knocking off top 25 teams. West Virginia tore through the Big East tournament to reach the finals, developing a knack for big finishes.
None was bigger than this one.
"I just hope we have a city when we get back to school," said Mountaineers guard J.D. Collins. "It might get burned down."
Gansey, who had about 300 friends and relatives in the stands, made a free throw that tied it at 77 with 21 seconds left in regulation.
It finally ended when Wake Forest's Trent Strickland missed a three-pointer with 29 seconds left in the second overtime.
"I mean, you know ... this is a dream come true," Gansey said.
Washington 97, Pacific 79
Boise, Idaho -- Nate Robinson scored 18 of his 23 points in the second half, and the top-seeded Huskies advanced to the round of 16 for the first time since 1998.
Bobby Jones scored 19, and Will Conroy had 10 assists for Washington (29-5). Tre Simmons scored 15 for the Pac-10 champion Huskies, whose top seed was the most disputed among the four No. 1s. But Washington backed it up well against Pacific (27-4).
Guillaume Yango led the Tigers with 17 points and 10 rebounds, and Christian Maraker added 12 points.
Copyright 2018 The Associated Press. All rights reserved. This material may not be published, broadcast, rewritten or redistributed. We strive to uphold our values for every story published.