Seoul, South Korea — From inside a mountainside bunker, Secretary of State Condoleezza Rice saw firsthand Saturday what a war with North Korea might look like.
Rice became the most senior American official to tour a command center for U.S. and South Korean troops that would be the battle headquarters in the event of fighting with the communist North.
"I know that you face a close-in threat every day," Rice told troops at Command Post Tango, or Theater Air Naval Ground Operations.
Rice's visit coincided with a twice-yearly war exercise involving thousands of American and South Korean soldiers.
When Rice got a look at the command center, it also was the first time that reporters and cameras were allowed into the bunker south of Seoul.
North Korea denounced the exercises as a rehearsal for a U.S.-led pre-emptive attack.
Rice's trip to Asia is intended partly to push North Korea to resume nuclear disarmament talks. She repeatedly has assured North Korea that the United States has no intention of invading.
Still, more than 32,000 U.S. troops are stationed in Korea, with more at the ready nearby. They are testament to the tension and suspicion between North and South Korea five decades after active hostilities ended in the Korean War.
"In parts of the world, the Cold War has ended and we've been able to (produce) a continent like Europe, that is now whole and free," Rice told commanders and troops. "But of course, divisions remain here in Korea."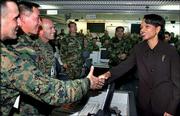 In a large underground room that resembled a college lecture hall, Rice received a classified briefing on war preparations. In place of a blackboard, the room has a huge computer-driven display screen.
When reporters were brought into the room, the lighted screen showed only the State Department seal where maps or detailed planning data would be.
This morning, Rice conducted an unusual press conference with Korean Internet reporters. The event, meant to highlight the freewheeling nature of computer communication in an open democracy, got off to a bad start when American security guards tackled a peace activist as he shouted to get Rice's attention.
"Miss Rice, the North Korean people are dying and they are crying for your help," yelled the activist, German physician and former aid worker Norbert Vollertsen. He held up a poster that read "Freedom for North Korea: 50 Years Overdue," until a U.S. Embassy employee ripped the poster in half.
As Rice took her seat for the news conference, security officers literally muffled Vollertsen as they wrestled him to the carpeted floor. He had talked his way into the event before Rice arrived, but an embassy public affairs officer recognized him at the last moment and demanded he be removed.
In replies to the Korean journalists, Rice described true democracy as the ability to "say what you wish, worship as you please and educate your children, boys and girls."
In contrast to the closed society of North Korea, Rice said, "you can come here and think what you want and ask me anything -- the United States secretary of state -- and what a wonderful thing that is."
Copyright 2018 The Associated Press. All rights reserved. This material may not be published, broadcast, rewritten or redistributed. We strive to uphold our values for every story published.