Kiev, Ukraine — Russian President Vladimir Putin made a one-day fence-mending trip to Ukraine on Saturday to seek assurances that the country's new pro-Western government would not drive the two former Soviet republics apart.
Putin flew to the Ukrainian capital from Paris and met Ukrainian President Viktor Yushchenko, who won election in December after street protests forced the reversal of an initial vote count that gave victory to his pro-Kremlin opponent. It was Putin's first visit to Ukraine since the so-called "Orange Revolution."
In Paris, President Jacques Chirac assured Putin that Europe sought good relations with Moscow, and the Russian leader had a similar message for Yushchenko. Common interests demand solid partnership, Putin said.
"During today's meeting I was never left with the feeling that our relationship has problems," Putin said. "There are questions, but we will resolve those in a working manner."
Yushchenko said his goal was for "Vladimir Putin and Russia to understand that the new Ukrainian government is a responsible government, which will always demonstrate honesty."
Saturday's brief visit was the second meeting between the leaders. Yushchenko traveled to the Kremlin a day after his inauguration, fulfilling a campaign promise to preserve a good relationship with Russia even as Ukraine seeks membership in the European Union and NATO.
Ukraine also has about 1,600 troops in Iraq, making it the fourth-largest contributor to the coalition and the largest among non-NATO countries, though Yushchenko and top defense officials ordered the troops to leave by year's end. Eighteen Ukrainian soldiers have been killed in Iraq.
"Russia is our eternal neighbor, which Ukraine wants to see as a friend and strategic partner," Yushchenko said.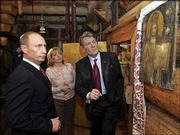 Yushchenko invited Putin to visit his apartment for an informal meeting to discuss humanitarian issues, and the two first families had dinner.
Putin's last two trips to Ukraine came in the midst of the bitter presidential campaign, sparking accusations he was campaigning on behalf of Yushchenko's rival, former Prime Minister Viktor Yanukovych.
Yushchenko's supporters and the West criticized the Kremlin for interfering in its neighbor's political affairs. Yushchenko's victory in the repeat vote and the rush in European capitals to fete him left Putin looking like an outsider.
Copyright 2018 The Associated Press. All rights reserved. This material may not be published, broadcast, rewritten or redistributed. We strive to uphold our values for every story published.