Los Angeles — When Mercedes Ruehl was sent the script of the Lifetime movie "Mom at Sixteen," nobody involved with the production knew how personally connected she would feel to the story.
As a young woman, Ruehl had given birth to a son and reluctantly given him up for adoption because she didn't have "the emotional development or the economic capability" to raise the child. Yet she located him years later and they forged a close relationship. He's even godfather to her 7-year-old adopted son, Javier.
In "Mom at Sixteen," Ruehl plays Terry Jeffries, who decides to raise her teenage daughter's baby as her own son. The drama (8 p.m Monday) explores teenage sexuality and attitudes toward motherhood and adoption.
The original teleplay was written by Nancey Silvers, who likes to create stories that "are love letters to my own kids and their friends," dramatizing subject matter that gets a message across. She even uses the names of two of her own children in the script.
Jane Krakowski co-stars as a guidance counselor who helps the Jeffries find a better way to deal with their predicament. The film includes improvised scenes in which the teenage actors who play students in the counselor's class open up about current sexual mores.
Ruehl wryly notes the real reason she got offered the role of the controlling mother was, "They were looking for a Mercedes Ruehl type," and the director, Peter Werner, had the sense to ask if the real Ruehl was interested.
When asked to describe a "Mercedes Ruehl type," she tosses out "funny," "urban, but not necessarily "urbane," "brazen," "aggressive," "New York female."
She notes she was, "Never an ingenue ... always what you might call a wisecracking soubrette." She says her initial desire to act "came out of a neurotic need for attention," but over time that has morphed into a love for a craft and she "can't imagine my life without it."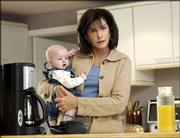 "She brings a higher level of talent," says Silvers, the daughter of late comedian Phil Silvers, referring to the Academy Award winner playing a character she created. She describes Ruehl as "quirky and interesting" in the role, "over the top like a real person ... not cookie cutter."
Ruehl, 57, won the supporting-actress Oscar as the flamboyant video store owner in 1991's "The Fisher King." But she says the award was "a sort of non-thing in terms of my career."
The movie did, however, play an interesting part in her reconnection with her long-lost son.
Before their first meeting, he became aware she was an actress in the film. "So he went out by himself late one night, rented 'The Fisher King,' watched the whole thing, not knowing if his mother was (co-star) Amanda Plummer or myself," Ruehl recalled. "Can you imagine that? I mean, we laugh about it now. He must have just been biting his nails, 'Which of these nuts is my mother?"'
Copyright 2018 The Associated Press. All rights reserved. This material may not be published, broadcast, rewritten or redistributed. We strive to uphold our values for every story published.