Kansas University's basketball players and coaches filed slowly and silently toward the team bus after an equally solemn brunch late Saturday morning at the Oklahoma City Marriott.
Nobody was in the mood for chit-chat just 12 hours after the No. 3-seeded Jayhawks' shocking 64-63 season-ending loss to Bucknell at Oklahoma City's Ford Center.
"This is the most disappointed I've ever been," KU coach Bill Self said.
He did manage to sleep some after the most stunning first-round loss of the tournament -- KU's first in the first round since 1978. Self forced a smile and quipped that his wife, Cindy, was unable to sleep and "pulled an all-nighter.
"I don't even know how to feel. I'm a little mad, a little hurt. I feel bad for the players, a little frustrated. It's a combination of things right now. I've never experienced this before. This is the first go-around for me," said Self, who never had lost a first-round game in his coaching career.
The Jayhawks ate before driving to Will Rogers Airport and returning to Topeka's Forbes Field via charter plane.
Attendance was spotty in the dining hall for a team snack after Friday night's game.
"Everybody is bummed," Self said.
"We had a team meal that very few took advantage of last night. We went upstairs because nobody could eat and went to bed."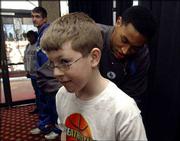 Self, whose Jayhawks finished the season 23-7, didn't need to view game films to pinpoint why KU lost to Bucknell of the Patriot League.
"I remember just about everything. Obviously, I don't think we played real well," said Self, whose Jayhawks hit one of 11 threes to No. 14-seed Bucknell's eight of 31.
"On the flipside, we had plenty of opportunities and didn't get it done. We didn't guard that great at all, especially the second half. We shot the ball very poorly. It could have turned out differently. It's such a fine line between winning and losing -- a fine line."
Yet, Self knows the bottom line at a powerhouse like KU.
Drop a first-round game to Bucknell, a team with just a handful of scholarship players, and people are going to point fingers -- mostly at the head coach.
"Personally, I know that from a job perspective you know the head coach catches (intense criticism). Players should get the credit when we win and the head coach the brunt of it when you don't win. I understand that.
"We've been around long enough to know that. I understand there's disappointed people, but no one is more disappointed than our basketball family. It is what it is. We chose to come here and be part of that."
Self said the rest of the month of March would not be a bundle of laughs.
He's planning to stay in Lawrence for this week's spring break as most of his players head home for the week.
"It certainly will not be the best of times to be eliminated early and watch other teams play we think we are very capable of playing and having success against," Self said.
As far as the Jayhawks, the squad will begin individual workouts and weight-room work right after spring break.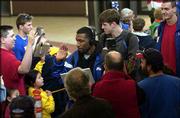 "The big thing is," Self said, "is we are not very strong. We have to get a lot stronger. And we've got to spend a lot of time in the gym. We've just got to work."
As far as the players in the program, Self has continued to recruit in case there is any roster movement. He's filled all available scholarships with a trio of McDonald's All-Americans -- 6-8 Julian Wright, 6-1 Mario Chalmers and 6-7 Micah Downs and brought in athletic 6-4 USC transfer Rodrick Stewart.
Sophomore J.R. Giddens, who had been rumored to be NBA-bound, said after the loss that he definitely would return for his junior season. And Russell Robinson, a player rumored to be considering a transfer, also has said he would be back.
"I hope so," Self said, asked about Giddens' return. "I'll visit with him. I know he is disappointed immensely. We'll wait and see. He is a terrific kid. Another year would probably do him some good is my personal opinion.
"We'll digest everything and get together. I'm hopeful we'll have very little movement, if any."
Self is hoping the players will have better luck health-wise next year.
Injuries affected this year's team from start to finish. Keith Langford (flu, elbow, knee, ankle), Simien (thumb), Alex Galindo (groin), C.J. Giles (foot), Christian Moody (staph infection), Sasha Kaun (teeth), Jeff Hawkins (back), Darnell Jackson (back) and walk-on Stephen Vinson (groin) all were out for spells, not to mention red-shirts Jeremy Case (groin) and Matt Kleinmann (mono).
"Since we've been here, we've had a lot of them," Self said of injuries. "Staph infections, flu, you can't control that kind of stuff. Torn ligaments, the majority of things that have occurred with us occurred in games or sickness. We didn't have very many things actually happen in practice. I can't put a finger on it. Usually it's cyclical."
He is hoping a new fieldhouse floor that will be installed will have more bounce and lessen the foot and leg problems.
Self insists there's no major problem with the KU program, which dropped six of nine games to close the season. As far as how a team could go from 20-1 to being a first-round loser, Self gave his analysis:
"I would say when we were 20-1 we were lucky to be 20-1," Self said.
KU survived home scares against South Carolina, Georgia Tech, Texas A&M; and Nebraska during that stretch.
"We didn't play as well late. Our record certainly showed that," he said. "I'd say injuries were a big part of it, but injuries were not the reason we lost those games. We were not defending as well, not shooting as well, not playing together as well. Just taking care of the basketball, being careless, not defending as well or the way we're capable. Those are all just as important as injuries."
As for the state of the program entering year three of the Self era:
"Just because a 14 (seed) beats a 3 doesn't mean you have a bad program," Self said. "It's disappointing. A lot of good programs have lost games. We didn't anticipate it happening under this year's watch. This team had some deficiencies. We've really had to splice things together of late (because of injuries). The guys did a good job playing strong for the most part. I don't think one loss means you go from a great program to a bad program."
Copyright 2018 The Lawrence Journal-World. All rights reserved. This material may not be published, broadcast, rewritten or redistributed. We strive to uphold our values for every story published.