Macon, Mo. — A former prosecutor and family man once known for a firm grasp of the difference between right and wrong, David Masters arrived at his death bound to a chair, his final stop along a road of poor choices.
Two housemates are accused of being his judge and jury, condemning Masters for owing three weeks of rent and making passes at a woman with whom he lived. When the woman pulled out a gun, court papers say, Masters said he'd rather die from drugs -- so the father of seven was injected with syringe after syringe of cocaine.
The 52-year-old's body was found the next day, March 3, near a river in the Ozarks, a couple hundred miles from this small town where he made his name upholding the law.
"No one in their wildest imagination would ever dream he would succumb to an illicit drug problem and associate with the people he did," said James Foley, a former Macon County prosecutor and retired judge. "They try and rationalize it, but you couldn't even make this up in TV fiction. That's what his life became."
'Lost soul'
No one will say whether Masters might have been using drugs as his life fell apart. Since losing re-election in 1998, he'd abandoned clients, separated from his wife and surrounded himself with drug users, his daughter said.
Brad Funk, an assistant prosecutor under Masters for more than five years in the 1990s, said his one-time mentor always "tried to do the right thing. That's why it's so shocking, sickening that David ended up such a lost soul."
Masters came to Macon in 1990, when then-Gov. John Ashcroft tapped him to be the county's prosecutor. He was a sharp, organized litigator who devoted full-time hours to the part-time job, and had a private law practice on the side to make ends meet.
Masters often was in the courthouse readying his cases before dawn, then could be seen at his private practice downtown into the wee hours of some mornings.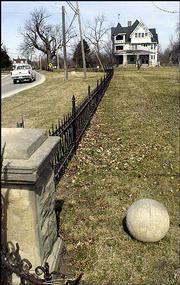 "He was as productive as two or three attorneys put together," says Funk, since 2001 an associate circuit judge in Mercer County. "I never questioned his decency or his integrity or his abilities as an attorney. He was an officer of the court, and he took that very seriously."
Masters and his family lived in one of Macon's best-known homes, the 19th century Wardell Mansion, which was on the National Register of Historic Places.
But after two terms, Masters lost re-election in 1998. He soon seemed overwhelmed by his work.
In late 2003, an ex-client was arrested, suspected of setting Masters' law office ablaze. That month, court records show, Masters' wife filed for divorce; they separated but never officially ended the marriage. The house became a money pit.
"His life seemed to unravel," Foley says.
Wrong choices
Masters left Macon County for a fresh start around Springfield in southwest Missouri, but he failed to tell dozens of his clients -- some already having paid for his services -- and his law license was suspended in January 2004.
Masters fell in with the wrong crowd, by many accounts sinking into a subculture of drugs and depression.
Today, his housemates -- Crystal Broyles, 27, and Thomas Naumann, 49 -- and Broyles' sister, 23-year-old Brandi Storment, are charged with first-degree murder in his slaying. Prosecutors say Storment was at the house and stole some of Masters' possessions but did not inject him with any cocaine. The defendants are scheduled for a preliminary hearing April 1 and are jailed without bail.
In Macon, gold letters on the glass door of a mostly empty downtown office still read "Law Office of David A. Masters." His once-majestic landmark home is a decaying eyesore of shattered windows, a rotting roof and a rusting weather vane.
"He was a wonderful man who made a few wrong choices and it changed his life forever," one of Masters' daughters, Cecily Fliege, told the Springfield News-Leader. "That's all it takes -- is one poor choice.
"You don't expect your father to die like this."
Copyright 2018 The Associated Press. All rights reserved. This material may not be published, broadcast, rewritten or redistributed. We strive to uphold our values for every story published.