A crew of tough-looking workmen drove by in a pickup truck. Susan Simmons, wearing a bright-orange safety vest and black gloves, extended her left hand and gave them a wave.
They waved back.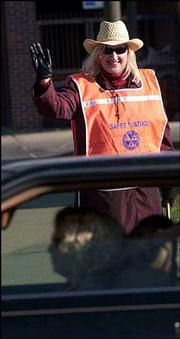 "Isn't that great?" Simmons asked.
At first glance, Simmons appears to be the most socially well-connected crossing guard in town. But after a few days of driving past her, it becomes clear she doesn't know everyone.
She just waves at everyone.
Everyone.
"It's spreading goodwill," she said. "I think maybe we miss the small town-ness where everybody knows each other and everybody waves."
Simmons, a Kansas University graduate who's married with four grown children and one teenager, began working in November as a crossing guard. The city encourages new crossing guards to wave and be friendly as a way to help public relations.
"When you tell her something, she takes it to heart," said Lawrence Police Sgt. Catherine Born, Simmons' supervisor.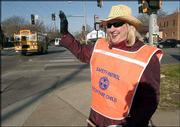 Simmons is one of 13 part-time crossing guards working for the city, all of whom earn about $7 per hour. Previously, Simmons had worked as a caregiver for an elderly woman.
She stands at two corners each weekday morning and afternoon: first at Fifth and Maine streets near Pinckney School, then at 19th and Massachusetts streets near Cordley School.
On a recent morning at 19th and Massachusetts, Simmons got waves from 10 perfect strangers in one minute.
"For one thing, it makes people more aware that they're in a school zone," she said. "I'm a representative of the city, and I'm protecting their children."
One group in particular has benefited recently from Simmons' gestures. Family members of slain Douglas County resident Carmin D. Ross -- who were in town the past month from Indiana for the trial of Ross' ex-husband -- passed Simmons each day on their way to the courthouse.
At first, they were puzzled and amused. Eventually, they started waving back.
"It was probably the third morning, and everyone one of us was waving," said April Russell, Ross' sister. "I love it. It brings a smile to your face."
Copyright 2018 The Lawrence Journal-World. All rights reserved. This material may not be published, broadcast, rewritten or redistributed. We strive to uphold our values for every story published.