Cultures measure their progress through change.
The speed of innovation. The frequency of cures. The differences between "now" and "then."
We take pride -- and sometimes shame -- in the transitions we make or don't make. And history books just don't reflect those transformations as creatively as works of art.
A handful of Kansas University faculty artists explore the theme of "transitions" in an exhibition on view through May 22 in the White Gallery at the Spencer Museum of Art.
Some of the artists address broad cultural shifts. Others delve into strictly personal adjustments. Still others play with change by subverting traditions and expectations in their medium of choice.
Elissa Armstrong
Ceramics professor Elissa Armstrong fits into the latter category. She has shed the conventional forms of "fine" ceramics and instead crafted bunnies, lambs and deer coated in garish commercial glazes, glitter, decals, resin and felt. But there's nothing cuddly or sweet about these creatures. Thick dripping glazes and traces of disfigurement give the works a sinister look, almost as if their flesh is melting.
These are your grandmother's tchotchkes gone woefully wrong.
"Hers are objects in transition," writes guest curator Elizabeth Dunbar, of the Kemper Museum of Contemporary Art in Kansas City, Mo., who selected the show's theme. Indeed, Armstrong seems to represent the history of the decorative ceramic objects in these pieces and then playfully poke fun at it.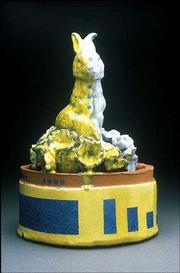 Pok-Chi Lau
By his very method, photography professor Pok-Chi Lau exhibits technological shifts in his field. His photos are shot digitally and reproduced on an inkjet printer. But more than that, they document a country in transition. Lau has been photographing urban China in flux for 25 years, though he only recently began shooting it in color. The vivid hues of these prints help reinforce their content more than black and white prints could.
Lau pays particular attention to the pervasiveness of Western influences: a Kentucky Fried Chicken sign; U.S. dollars in a massive streetside advertisement; blond-haired, blue-eyed pin-ups in a men's rest room; and a print of Van Gogh's "Sunflowers" in a furniture showroom.
Especially evocative is a tightly composed shot of a water deliveryman on an old-school bicycle zipping -- slightly out of focus -- past a billboard of contemporary Asian beauties getting spa treatments.
Mary Anne Jordan
Textiles artist Mary Anne Jordan embarks in a slightly new direction with her quilted wall pieces, constructed like traditional quilts, with a layer of cotton batting sandwiched between two pieces of fabric. She incorporates geometric emblems, such as circle and plus signs, reminiscent of Amish quilts and uses bold, hand-dyed fabrics in jeweled ocean tones and vivid red-oranges.
On a purely technical level, Jordon's quilting is at times stunningly intricate and effectively delineates the geometric shapes from their backgrounds. In at least one case, she does this by contrasting chaotic, swirling quilt stitches against a backdrop of linear ones.
The combination of colors, textures and shapes works to inspire both comfort and, perhaps, alarm in viewers. After all, these are also the symbols of wartime, when concentric circles and plus signs read as targets and crosses. Interpreted this way, the quilts become deceptively cozy embodiments of transition from peace to turmoil -- a particularly timely issue.
Michael Krueger
The following programs are scheduled in conjunction with "Transitions: KU Faculty Artists Address Change." All events are in the White Gallery at the Spencer Museum of Art, where the exhibition remains on view through May 22:¢ Tour du Jour by Michael Krueger, Kansas University associate professor of art, on prints and drawings, 12:15 p.m. March 31.¢ Tour du Jour by So Yeon Park, KU assistant professor of art, on video installation, 12:15 p.m. April 7.¢ Tour du Jour by Mary Anne Jordan, KU associate professor of design, on textiles, 12:15 p.m. April 14.¢ Tour du Jour by Pok-Chi Lau, KU professor of design, on photography, 5:30 p.m. May 5.A talk by guest curator Elizabeth Dunbar and tour by ceramics artist and KU assistant professor of design Elissa Armstrong were held earlier.
Michael Krueger, too, references a shifting world view in his prints and drawings, rendered with poignancy and wit. "So What" -- from his Full Metal Journals series, which combines his high school notebooks with new drawings and prints from an adult perspective -- juxtaposes the idealized heavy metal scrawlings of a teenage boy with military helicopters, shackled feet and other hints of an uglier reality.
Krueger often calls out the dishonesty of revisionist histories. In "Shopping Jefferson," he draws Thomas Jefferson pushing a shopping car with one hand while holding a chain in the other -- references to the fact that the third president of the United States owned slaves and died in credit debt up to his ears because of his lavish lifestyle and addiction to shopping. You won't read much about these traits in history books.
So Yeon Park
Perhaps the most personal work in the exhibition comes from So Yeon Park, who, though trained in traditional ceramics, now primarily does performance art, often combining dance, sculpture and video projection. She created "In Transition" especially for the Spencer show.
The video piece is projected onto the floor in a darkened room of the gallery and shows Park wringing herself through a series of bindings and unbindings with a rope-like piece of cloth created when she tears a large piece of fabric in two.
She seems to reference bondage, struggle, resistance, risk and abandon through the course of the film, which also includes footage of Park wearing a flowered halo and slowly disrobing. Ultimately, Dunbar tells us, the artist is addressing the struggles of being a foreigner in an unfamiliar culture, a first-time professor and an ambitious visual artist working with unconventional methods and materials.
It takes some time to soak up what's happening in the video, so reserve more than a few minutes.
Surprisingly, "Transitions" marks the first-ever KU faculty art show at the museum. With any luck, it won't be the last. It's a shame to have so much museum-caliber artwork produced by local artists being shipped to the coasts to be appreciated.
Copyright 2018 The Lawrence Journal-World. All rights reserved. This material may not be published, broadcast, rewritten or redistributed. We strive to uphold our values for every story published.