Philadelphia — Chris Duhon chased Allen Iverson around all night on the defensive end and still had enough energy to contribute some offense for the Chicago Bulls.
The rookie guard hit two big three-pointers in the fourth quarter while helping to hold Iverson to six points in the final period of the Bulls' 94-88 victory over the Philadelphia 76ers on Saturday night.
Iverson, playing his second straight game despite a chipped bone in his left thumb, led the Sixers with 31 points. But he converted just 9-of-24 from the field and committed 11 turnovers, one short of his season-high set March 8 against Golden State.
"My legs are a little tired right now," Duhon said of guarding Iverson. "He's a tremendous player, so quick and no one guy can play him."
Othella Harrington scored a season-high 24 points, and Ben Gordon had eight of his 22 in the fourth quarter as the Bulls snapped a four-game losing streak.
It was Duhon's effort which earned the praise of Bulls coach Scott Skiles.
"Duhon was just great," Skiles said. "He took a big charge, made a big basket and did a real good job on Allen Iverson."
Iverson, the NBA's leading scorer, said he merely played a sub-par game.
"Tonight was just a bad game, that's all," Iverson said. "That's it. The calls weren't going our way and I missed a lot of shots I normally make."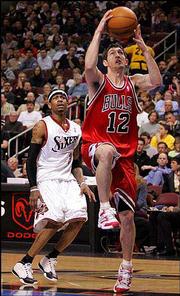 Kirk Hinrich contributed 21 points, nine assists and eight rebounds for the Bulls.
Chris Webber was a late scratch for the 76ers because of a compressed nerve in his left leg. Philadelphia has a 6-6 record since acquiring Webber in a trade with the Sacramento Kings.
Mavericks 104, Bobcats 93
Dallas -- Taking over for good Saturday night after Don Nelson resigned as coach earlier in the day, Avery Johnson won his first game as Dallas beat Charlotte. Dirk Nowitzki scored 33 points on 12-of-20 shooting.
Celtics 113, Hornets 100
New Orleans -- Ricky Davis scored 27 points and Paul Pierce 23, helping Boston cruise past New Orleans. The Celtics won their seventh straight game.
Wizards 96, Jazz 95
Washington -- Gilbert Arenas rallied from a scoreless and sulky first half with 22 points in the second half, including two free throws with 2.3 seconds to play, leading Washington over Utah. After Raja Bell hit a fadeaway 18-footer with 18 seconds remaining, Arenas dribbled down the clock for the final shot and was fouled by Bell while driving the lane with 2.3 seconds to go.
Magic 97, Trail Blazers 92
Portland, Ore. -- Grant Hill had 23 points and eight rebounds, and Orlando snapped a seven-game losing streak with a victory over Portland. Orlando defeated the Blazers for the first time since 1998.
Heat 97, Knicks 82
Miami -- Shaquille O'Neal scored 33 points, and Dwyane Wade had 30 to lead Miami to its 12th straight win. O'Neal also grabbed 17 rebounds as Miami won its 15th straight at home and swept the four-game season series with New York for the first time in franchise history.
Copyright 2018 The Associated Press. All rights reserved. This material may not be published, broadcast, rewritten or redistributed. We strive to uphold our values for every story published.