TUCSON, ARIZ. — Andrew Bogut makes everyone around him better, and his Utah teammates were at their best Saturday.
The sixth-seeded Utes capitalized on the 7-foot Aussie's skilled passing and Justin Hawkins' 20 points to beat No. 3 seed Oklahoma, 67-58, in the second round of the NCAA Tournament.
"We're excited as can be," Utah's Marc Jackson said.
The Utes (29-5) advanced to the regional semifinals for the first time since 1998, when they lost to Kentucky in the national championship game. They had been knocked out in the early rounds five of the last six years, but move on to play Kentucky next in the Austin Regional.
"It's the happiest day I've had in coaching," said Utah's Ray Giacoletti, who was hired in April to replace Rick Majerus. "Probably only 20 of us believed, but it was the right 20."
Although the beefy Sooners (25-8) did their best to beat up Bogut in the low post, they couldn't overcome 32 percent shooting. Except for hitting the first basket, they trailed the entire game and came no closer than seven points in the second half.
"Bogut made a lot of good passes," Oklahoma's Johnnie Gilbert said. "I thought a lot of times we would pick it off, but somehow it got through."
Utah opened the game on a 16-4 run and never looked back despite getting forced into 20 turnovers.
"I don't understand our start," Oklahoma coach Kelvin Sampson said. "We had a lot of good looks. Too many balls stayed on that rim and didn't go down. I felt like we could hurt Utah with our pressure, but you have to make shots. We just didn't."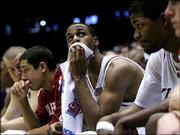 Bogut had a career-high seven assists and tied his season-low with 10 points, taking just seven shots. He scored 24 points in Utah's 60-54 opening-round victory over 11th-seeded UTEP. The sophomore has been mentioned as a potential No. 1 pick in this year's NBA draft.
"The bottom line with Andrew Bogut is, he's a winner, and it's about the team," Giacoletti said. "I don't know what the price tag is on that value."
Taj Gray had 19 points and 15 rebounds for the Sooners, who had won eight of their previous nine games.
"He made a lot of great passes, he made us alter our shots going into the paint," Gray said about Bogut. "He did a lot of little things to help his team out."
Bogut's defense on Kevin Bookout neutralized the 6-foot-8, 260-pounder, who got in early foul trouble and scored four points.
"For us to not come ready to play really hurt us," Bookout said. "We had some good looks down low, but we just couldn't finish them."
Gilbert, the Sooners' imposing backup forward, had three fouls and nine points.
"It was extremely frustrating," he said. "You keep going down and getting stops, but you're not making buckets at the other end."
Copyright 2018 The Associated Press. All rights reserved. This material may not be published, broadcast, rewritten or redistributed. We strive to uphold our values for every story published.