Say hello to my little friend.
China.
Actually, the giant country of 1.3 billion people is not my buddy, per se, but it might be yours.
Do a lot of shopping at that all-American store Wal-Mart, do you?
Surprise, but 1 percent of China's surging economy comes from exports to good ol' Sam Walton's red-white-and-blue place.
China is coming out of the medieval age into the business age at a speed that is nothing short of mind-blowing.
Got something made in the USA?
They're probably making it for a fraction over in China.
And sending it here.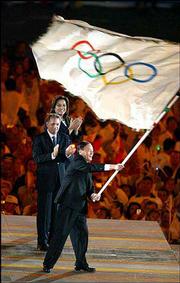 Or trying to.
Rising global juggernaut
According to a recent USA Today story by Ted C. Fishman, author of the new book "China, Inc.," America's trade deficit with China may reach $170 billion this year, up 2,700 percent in the past 16 years.
And no less an American than world's-richest-man Bill Gates is hinting that China may someday soon gobble up this country's dominance the way Ms. Pac-Man gobbled up those glowing blue dots.
"The ol' dollar is going down," the Microsoft chief said at last month's World Economics Forum in Davos, Switzerland.
His buddy and the world's second-richest man, Warren Buffett, basically agreed.
Things are happening on this globe -- the creation of labor forces and markets, the outsourcing of jobs and entire industries -- that are unprecedented in history.
And in many ways they all point at a country -- ours -- that rules precariously over a swarm of restless wannabes that are coming at us harder than a flurry of prime Mike Tyson uppercuts.
This is a sports column, not an economics column.

But the sports connection to world economic dominance is so clear and strong that we would be fools not to notice it.
We here in this country like to think we dominate at the sports we care about simply because of hard work, grit and passion.
The truth is we have more capital, more resources, more prestige, more power than anyone else on earth to pursue those goals.
And the grandest global sporting event of them all -- the Summer Olympics -- is coming to Beijing in 2008.
Do you see the connection?
For those who remember the iron fist of the Chinese dictators throughout the 20th century, the closed and impenetrable Bamboo Curtain, the haunting images of the insurrection at Tiananmen Square -- the very idea of a democratic sporting event such as the Olympics being held in China seems impossible.
But you can almost hear the sounds of the earth graders and air guns making the Olympic venue as close to perfect as Chinese will can make it.
Olympic pride
The Olympics will mean more to China than they have to any country in the modern era.
When the male Chinese hurdler Liu Xiang won the gold medal at the recent 2004 Summer Games in Athens, Greece, I was sitting in the stands marveling at the spectacle.
Who was this unknown guy?
Where did he come from?
How many more were there like him in China?
How many more would there be in four years?
China is rough, hungry and almost unstopped by Western convention.
Gates knows this because more than 90 percent of Microsoft's products used in China are pirated.
"And yet," Fishman writes, "Microsoft ... like so many U.S. companies, is helping China build the cheap juggernaut economy that now poses the greatest challenges to us."
It's a dilemma.
Open the world to American-style capitalism and watch freedom reign.
And stand by to be beaten at your own game.
Worldly perspective
International sporting events have given me a chance to see the world in ways that far transcend swimming pools and ski slopes.
I remember being in Tokyo in 1985 and watching two young, drunken Japanese businessmen stagger down a late-night Ginza district sidewalk, their ties askew, eyes blurry in the glare of the awakening Japanese economy.
"Do you know me?" one blurted, seeing the rare Westerner in his land. He held onto his giggling buddy for support. "I use American Express!"
In Lahti, Finland, in 1988, at the World Cup of skiing, I saw pristine apartment buildings and no slums and heard James Brown singing "Sex Machine" on the radio of my immaculate new Audi.
At the Sydney Summer Olympics in 2000, I saw a place that reminded me of San Diego, without gangs.
At the Athens Olympics, I saw the euro replace every other currency, likely an early symbol of the United States of Europe.
But Beijing, man.
That will be something.
It may not be a coming-out party at all over there in the land of the previously hidden dragon.
It may be a thanks-and-how-did-you-like-your-time-at-the-top, America? party.
Copyright 2017 The Lawrence Journal-World. All rights reserved. This material may not be published, broadcast, rewritten or redistributed. We strive to uphold our values for every story published.