Cairo, Egypt — Arab leaders grew increasingly impatient at Syria's resistance to a quick, complete withdrawal of its troops from Lebanon, with Saudi leader Crown Prince Abdullah sharply telling Syria's president Thursday to start getting out soon or face deeper isolation, according to a Saudi official.
The unusually tough message came when Syrian President Bashar Assad met Abdullah and other Saudi leaders in the kingdom's capital, the Saudi official told The Associated Press by telephone from Riyadh. Arab League foreign ministers, meeting Thursday in Cairo, added to the pressure, expressing support for the two Mideast powerhouses' diplomatic push.
Syria has resisted Arab pressure to withdraw, saying in behind-the-scenes diplomacy in recent days that it wants to keep 3,000 troops and early-warning stations in Lebanon, according to an Arab diplomat in Cairo. The Syrian army already operates radar stations in Dahr el-Baidar, on mountain tops bordering Syria. Israeli warplanes have attacked the sites in the past.
But Egypt and Saudi Arabia think those conditions are impossible, the diplomat said.
Abdullah told Assad the kingdom insists on the full withdrawal of Syria's 15,000 troops and intelligence forces from Lebanon and wants it to start "soon," the Saudi official said, speaking on condition of anonymity.
Assad replied only that he would study the possibility of carrying out a partial withdrawal before an Arab summit scheduled for March 23 in Algeria, the official said.
The Syrian leader insisted he is doing everything he can to resolve the problem but not everything is up to him, the official said.
Saudi officials replied that the situation was his problem and warned if Damascus refuses to comply, it would lead to tensions in Saudi-Syrian ties, the official said.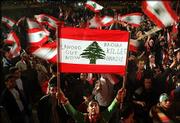 Saudi Arabia is said to be angry with Damascus about the Feb. 14 assassination of former Lebanese Prime Minister Rafik Hariri, who also held Saudi citizenship and was close to the Saudi royal family.
The Lebanese opposition has blamed Syria and its allied government in Beirut for the killing, which sparked dramatic street protests that forced the resignation of the pro-Syrian government.
Damascus and the Lebanese government deny any role in the assassination.
Copyright 2018 The Associated Press. All rights reserved. This material may not be published, broadcast, rewritten or redistributed. We strive to uphold our values for every story published.