It was hard for courtroom observers to watch.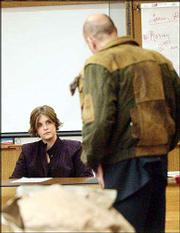 Prosecutors on Monday began showing jurors graphic photos of the body of Carmin D. Ross, whose ex-husband, professor Thomas E. Murray, is charged with beating and stabbing her to death in November 2003 at her home northwest of Lawrence.
Some of Ross' family members pressed their hands to their mouths when they saw the gashes and bruises that covered Ross' forehead, face and jaw. Ross' father, Danny, frequently looked across the courtroom at Murray, who sat with his lips pursed and his chin trembling.
Other photos showed a wide view of the living room where Ross was found, with blood trailing across the carpet and an overturned coffee table and potted plant.
Much of the testimony in Murray's trial this week will involve physical evidence, including details from the crime scene and the autopsy. Witnesses scheduled to take the stand include coroner Erik Mitchell, who ruled that Ross died of multiple stab wounds and lacerations, and Mike Van Stratton, director of the Kansas Bureau of Investigation's crime lab.
Two weeks into the trial, it's nearing the halfway point. Prosecutors have called 25 witnesses so far and anticipate calling about 30 more.
Witnesses on Monday included Lawrence Police Detective Zach Thomas, who described searching through the first floor of Ross' home for blood. He said he found drops of blood on a baseboard in Ross' bathroom, the same room where Murray told police he'd had a bleeding callus days earlier.
Murray's acupuncturist, Joslyn Dugas, testified that he seemed to be under stress when she treated him in summer 2003 after the couple's divorce. She said she suggested that he move on with his life and form new relationships.
"His response was, 'I can't do that' because Carmin had ruined his life," Dugas said.
Lacey Bonine, a baby sitter who watched Murray's daughter in Manhattan on the morning Ross died, testified that Murray dropped off his daughter unusually early that morning.
She insisted that a green jacket and two pair of shoes detectives seized from Murray's Manhattan home based on a description she gave them were not the same jacket and shoes he'd been wearing that morning. But a sheriff's deputy who searched Murray's home testified that police didn't leave behind any clothing that matched the descriptions Bonine gave.
Several weeks after the death, Bonine testified that she asked Murray about the progress in the investigation. She said he replied, "I just can't wait until they figure out that it's not my skin under her fingernails."
---
6News reporter Janet Reid contributed to this story. She can be reached at 832-6310.
Copyright 2018 The Lawrence Journal-World. All rights reserved. This material may not be published, broadcast, rewritten or redistributed. We strive to uphold our values for every story published.