Vienna, Austria — Oil prices settled at a record high above $60 a barrel Monday, reflecting traders' concerns about strong demand and potential supply bottlenecks.
With $60 no longer a threshold - and with continued concerns about refining capacities - prices appeared set to go even higher, analysts said.
Oil broker Tom Bentz, of BNP Paribas Commodity Futures in New York, said Monday's rally was just a continuation of the larger uptrend that began in late May.
Bentz said there also was a speculative component to the surge in oil prices, though he also believes that the world's limited excess production and refining capacity have played important roles in keeping traders on edge about potential supply disruptions.
After climbing as high as $60.95 per barrel, an intraday record, the front-month August contract for crude rose 70 cents to close at $60.54 a barrel on the New York Mercantile Exchange. It was the highest settlement on record at Nymex, where crude futures began trading in 1983. The previous settlement high was $59.84 a barrel, set Friday.
Adjusted for inflation, prices peaked in 1980 above $90 a barrel.
Other petroleum products followed crude's rise.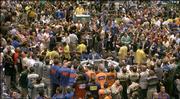 Heating oil futures, which serve as a proxy for all distillate fuels, including jet fuel and diesel, surged 2.57 cents to $1.68 a gallon. Gasoline futures rose 1.93 cents to $1.68 a gallon.
"The psychology of the market is that once $60 is breached, then there is tendency to test how much higher it can go, or how long $60 can be sustained," said Victor Shum, petroleum analyst at Texas-based energy consultants Purvin & Gertz in Singapore.
"There's a lot of speculative activity. It is a red-hot market," Shum said.
With demand expected to average 84 million barrels a day in 2005, analysts say there is not enough of a supply cushion to shield the market from any prolonged output disruption. Excess production capacity is estimated to be about 1.5 million barrels a day, most of it in Saudi Arabia.
Another reason for trepidation among traders is the limited refining capacity in the United States, which is increasingly reliant on imports of gasoline. Any glitch in the U.S. refining system puts more strain on the global supply chain.
Still, record-setting prices have yet to cool demand for gasoline in the United States, where consumption is up - in a time when prices are 40 percent higher compared with a year ago.
"These high prices really have not significantly dented demand, particularly in the United States market," Shum said. "U.S. refineries in the past week have been running very full at 96, 97 percent."
The Lundberg survey, which tracks gasoline prices from 7,000 gas stations in the United States, said Sunday prices at pumps across the country were up an average of 8 cents a gallon for the two-week period ended June 24.
With the summer driving season under way, the average retail price for all three grades of gas hit $2.24 a gallon on Friday, up from $2.16 on June 10.
OPEC President Sheik Ahmed Fahd Al Ahmed Al Sabah over the weekend began consultations with fellow members as to whether to release another half million barrels into the market, but said they would monitor prices further first.
"I think we've got to wait for a while to see exactly what is the behavior of the prices, because until now it's not clear," said Al Sabah.
The Organization of Petroleum Exporting Countries raised its production quota by 500,000 barrels in mid-June, bringing the official output target to 28 million barrels a day. However, traders brushed off the move as insignificant since it would further deplete the cartel's razor-thin supply cushion and because its members were already pumping above the quota.
Including Iraq, which is not bound by the quota, OPEC's production is close to 30 million barrels a day.
Copyright 2018 The Associated Press. All rights reserved. This material may not be published, broadcast, rewritten or redistributed. We strive to uphold our values for every story published.